Astarte Rowe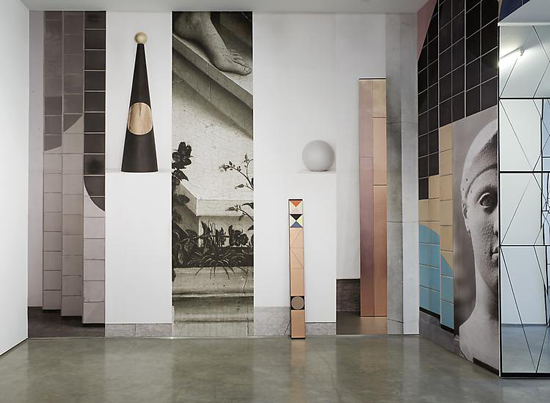 An early apprenticeship as blacksmith at Bergmeister Kunstshmiede led Claudia Wieser to the prestigious Akademie der Bildenden Künste in Munich, where she completed an MA in Painting. Geometry acts as a point of departure for Wieser, as evinced by her spherical wooden sculptures, hand-painted ceramics, multi-faceted mirrors, and gold leaf geometrics applied to hand-made paper or book pages. In her installations this inquiry into shape, form, and color is offset by wallpaper digitally printed with art historical references to Byzantine and Renaissance art or nineteenth-century architecture and design. Craftsmanship and art intersect in Wieser's oeuvre, just as trompe l'oeil illusionism is continuous with austere abstraction in her Bauhaus-inspired praxis. Her Gesamtkunstwerks thus re-forge the overdetermined idealization of form in Abstract art. A spiritual essence has often been attributed to Wieser's art, yet it is not form, abstracted from reality, that suffices to qualify this spirituality, as Wassily Kandinsky specified in 1977. Rather, the spiritual is expressed by the alchemical, Hephaestically labor-intensive dilation and contraction of form into dimension, plane, cut, and its final liquidation into illusion.
Astarte Rowe:
There are so many important dimensions to your art, but I want to focus particularly on your use of gold leaf and geometric forms. To begin, could you tell me how the use of gold originated in your practice? And what implications it bears for you specifically?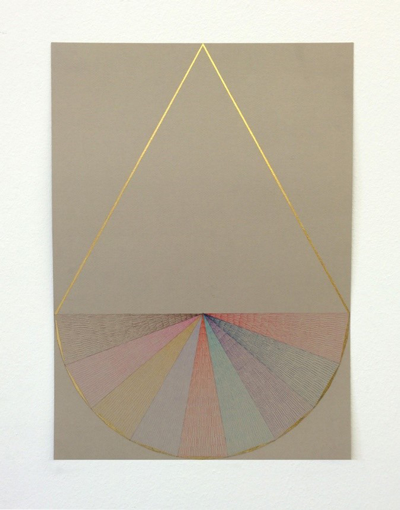 Claudia Wieser:
I started to use gold leaf in my drawings very early on. I wanted to add another dimension to the blunt surface of the paper or old photograph which I used as a background for my drawings. On a visual level, the gold line reflected the surrounding light and changed the tone depending on the viewer's position. It didn't connect directly with the rest of the information on the paper – it sat more like an aureole on it. Hence it opened up other levels than the visual. Questions of aura, religion, mysticism, history, and desire turned up, moving beyond purely geometric and formal problems. The quality of gold allows me to include these implications into my artwork.
AR:
Untitled
(2014) is a ceramic piece that seemingly evokes of one of the most ancient problems in geometry – namely, the impossibility of 'squaring a circle.' If, as critics often mention, your use of gold leaf denotes a spiritual essence in your work, could you comment on whether its application to the circle is perhaps meant to enshrine the mathematical irrationality of π (Pi)? Furthermore, are you rendering sacred the very impossibility of being able to produce a geometrically perfect circle, considering that such a thing exists only in a purely transcendental realm?
CW:
I like to use the circle in my work not because there are any theoretical considerations about the mathematical definition of a circle – but somehow it does have to do with this. I like the circle because it is one of the most basic and general shapes to use. It can be recombined with any other form, and yet it stands its own ground in an equally powerful manner. Imperfection is also a calculated element in my practice, based on the handmade quality of the production process.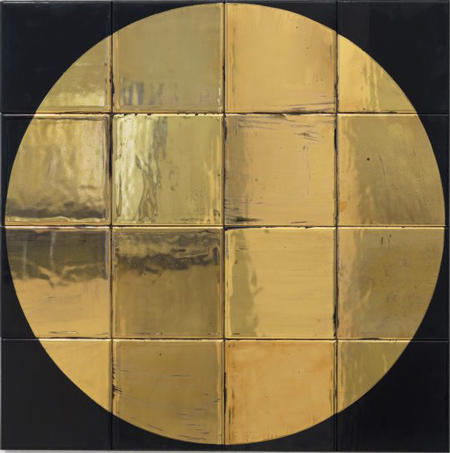 AR:
As a follow-up question: your ceramic pieces tend to be hand-made and hand-glazed. Critics often ascribe this to what they perceive as your Bauhaus-inspired approach to art and design, and evidently your art has both an applied and fine-arts basis. From tile-making, to paper-making, to carving and sculpture, the acts of labor and process are fundamental to your practice. Can you tell us why this is so?
CW:
The act of making is important to my practice and originated in my work as blacksmith in my early twenties. If a material goes through my hands a lot it helps me to make decisions and find solutions. It also fosters a personal relationship to the work. These acts of working and reworking a material will hopefully result in some 'personality' of the work which is hidden in deeper layers and can't be described in rational terms. Some will call it 'aura.'
AR:
Your use of geometric forms in combination with realist photographs, such as in
Gelege des Teichhuhns
(2016) and
Fischreiher
(2009), evokes associations with earlier genres of painting. One is reminded, for example, of the circular aureoles in medieval art, or even of the triangular compositions in Renaissance paintings. Yet in these cases, geometry itself was not laid bare even if it was the motivation for achieving realism (if an idealized type of realism) through linear perspective and geometric calculation. In the artworks I mention above, geometry is exposed and overlaid onto the photographic image. Could you tell us a bit more about the motivation for allying geometry and nature in your art?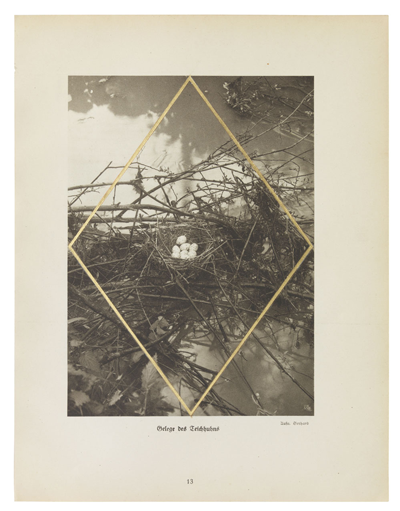 CW:
I select old photographs or book pages with images of nature. The chosen photos already suggest a strong compositional value to me, which I respond to. I then impose simplistic geometric forms to enhance and/or counterbalance the compositional form that I already recognize in the photograph itself. Some of my earliest identifications with art came with my discovery of twentieth-century abstraction and some medieval paintings, and that continues to remain a very strong element in my creativity. It is these primary, elementary shapes that offer, in my view, the most appropriate response to these images of nature.
AR:
This follows onto my final question: I wonder if you could comment on whether the fact that a curator has involved you in a group show with shell-building amoebas says anything at all about your artworks, inspiration, or practice.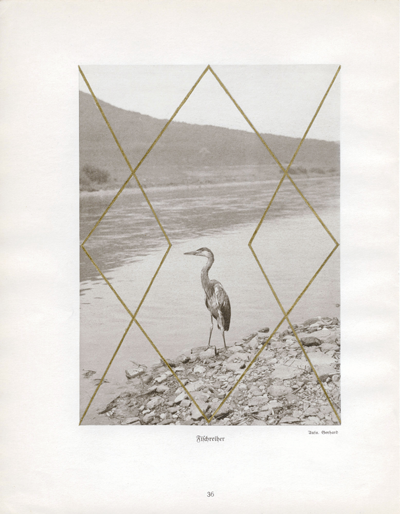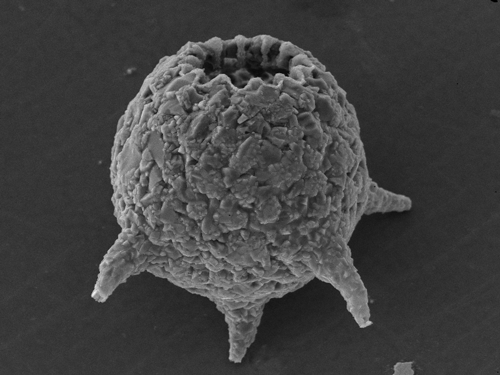 CW:
No, but it's an interesting question. It provokes an inquiry about the role of science and mathematics in my practice, and my elementary interest in geometric construction.
---
Claudia Wieser (b. 1973), lives and works in Berlin. Selected solo exhibitions include The Mirror, Marianne Boesky Gallery, New York (2013); Furniture, KIOSK, Ghent (2012); and Poems of the Right Angle, The Drawing Center, New York (2010). Recent group exhibitions include: Poème de l'angle droit, Galería Casado Santapau, Madrid (2016); Passing Leap, Hauser + Wirth, New York (2015); The Drawing Biennial, Drawing Room, London (2013); and Prix Canson Nominees, Petit Palais, Paris (2013). She is represented by Marianne Boesky Gallery in New York and Sies + Höke, Düsseldorf.
Dr. Astarte Rowe received her PhD in Art History from the University of Melbourne. Her articles appear in the International Journal of the Image, Australian and New Zealand Journal of Art, Art + Australia, and World Art.