Jodie Cavalier
I first learned of Sarah Witt through the High Desert Test Sites newsletter. I had been accepted to the
AZ West Wagon Encampment Residency
to continue my research on food, storytelling, and landscape and was paying particular attention to all art related events and organizations in Joshua Tree to help me prepare for my visit. The High Desert Test Kitchen (HDTK) had just gotten on my radar and I was very excited about the work. I learned that Sarah Witt was the creator and reached out to her a few months before my visit to set up a time to meet.
While in Joshua Tree, Sarah organized a foraging walk up and through the wash on the AZ West site (artist Andrea Zittel's property). We spent the afternoon learning about the edible and palatable plants on the property. That evening (April 25, 2017) we cooked together with other residents and visitors and shared wonderful food and conversation. Just after the residency I reached out again to Sarah to gain a little more insight into her life and creative practice which blurs together impulses to walk, bring people together, and share.
Jodie Cavalier:
Tell me about this image called "tumbleweed."
Sarah Witt
: It's a video still from this thing I started doing while on a spontaneous two-day trip to Utah during my first year of grad studies—it was the beginning of a whole body of work pointing to our human malleability, our intrinsic desire conform to our environments, to adapt for survival. (Actually, in the end, I decided we need to resist if we weren't going to be swallowed by the technocratic, automated society that would render humans extinct and replace them with robots. But that's a whole other story.) Anyway, this excerpt from my thesis explains it pretty well:
"Tumbleweeds gracefully rolled past the hood of the car, seemingly immune to the aberrational contours of the land. They were proud and unaffected, capable of relinquishing control to the unpredictable wind. Chasing one another in an endless procession, they seemed purposeful. Occasionally they would pause, a cluster of them gathering before embarking on the next segment. Despite the severe terrain, they seemed harmonious, maybe even tranquil.
I got out of the car to relieve myself. The sudden break of the motion was disturbing. A dizzying momentum lingered from the hours of jostling. I crouched beside the car and watched the thorny bushes roll across the road, horizontal and fearless, ignorant of right or wrong direction. I hate running, but I couldn't fight the urge. I got up and chased a family of them. My boots hit the ground with uneven steps, chunkily stubbing and hopping and tripping in a seizure-like frenzy. My gait was similar, like an unbridled fire hose. My chest felt icy as breath rapidly circulated through it, and I involuntarily stooped low, head hanging close to the dusty earth. Herds of the buoyant weeds continued to eclipse me. So I tried again.
It was not my first attempt at performance, but the first of this kind: non-narrative and movement-oriented. At the time, it was a physical gesture expressing freedom, an intuitive release of animalistic energy. The repetitive motion of thrusting the body across the ground was cathartic, a counter-response to the more delicate relationship I had the building.* Ritualistically, I stopped the car to barrel and fall throughout the 120 mile journey on the Pony Express. It took 8 hours.
It seemed necessary to document this routine with video, so I had the opportunity to immediately revisit the action from the stationary perspective of the camera. It was shockingly boring, my somersaults inconsistent and wimpy. In complete opposition to the aggressive sensations that I felt as the performer, the image on the video portrays the body as a hesitant and diminutive figure, cumbersome in its rise and fall to the earth. The vastness of the desert engulfs the performer, and she appears to be struggling to achieve something. This sentiment, of tireless but failing effort, when paired with the original impetus behind heedlessly plunging into rock-studded dust, points to a more sophisticated and significant interpretation: the performer was imitating, attempting to merge with or conform to its environment. To seamlessly disappear into it."
*the building was a pristine, oppressive space that looks like what the apple store might look like if it mated with MoMA. This is where my grad studio was, and I had recently been making odd gestural performances that I didn't really understand, like dressing in all white to match the walls, and crawling along the floors, or squeezing my body into the crevices where the floor and wall joined. It was weird stuff, pretty typical pseudo-intellectual performance work coming from a late-20-something year-old trying to figure out what she was trying to figure out.
JC:
What brought you to the High Desert in California?
SW:
I've always been nomadic, having an innate, compulsive need to move. Movement. It's a quality I embody—I'm rarely sitting, even after a twelve-hour shift on my feet in a kitchen, I'll still find things that need "doing" when I get home at 1am; I don't watch television or films; I'm generally not in the same place I was two minutes prior—and up until this last uprooting that finds me in the desert, it's a quality I had unconsciously built my lifestyle around. Since I left home at 18, I've lived in a dozen different cities or places, paused in dozens more, changed my address over twenty times, and had countless months where I had no address at all. By continually thrusting myself in new directions, landing in unfamiliar places, I was able to avoid honest self-evaluation by always needing to adapt to a new environment. Life was a perpetual puzzle, a strategic game of logistics to resolve while anticipatory excitement of "the new" fueled and rewarded this constant seek for a horizon. And then one day, things kind of came to a halt and I made an intuitive decision that seemed counter to my nature. I was moving back home. To the Midwest.
It was summer 2013, and my mother had just been diagnosed with cancer. I was living in New York at the time (for the third time), just finishing up a 6-month residency at Flux Factory in Queens. I was looking at dumpy, absurdly-priced apartments in places I didn't want to live, and feeling exhausted of treading water, of always recontextualizing myself. I was tired of meeting new people and then leaving them, tired of cobbling together a living, piecing together an identity—a career as an artist, who moonlit as a bicycle tour guide, a kayak stank dock hand, a coat check lady in a cocktail bar. The list is pushing 50-some odd jobs, most of which I did like, but made me feel incapable of making the art thing work.
My father called me that August to tell me that he was hiring a nurse to care for my mother when he returned to his teaching position in the fall, I automatically replied "don't, I'll do it." The words came out of my mouth as if I had been controlled by a puppeteer or temporarily possessed by a spirit. I was shocked that I had uttered them. My parents were equally shocked by this offer. I was afraid of leaving behind the empty identity of artist that I failed to occupy in a fulfilling manner. I was afraid of facing the truth, and considering that maybe I didn't actually want to be an artist, because then what? What was supposed to be a month or two of intensive care-taking turned into a 3-year journey of honesty, abandonment, openness, love, and heartache.
In the months that followed this return home, I clung hard to the art path I had just escaped, using it as a distraction from the daily decline of my mother's health, a placebo for my own lack of a concrete foundation. I continued to assume my role as a professional application writer, reconfiguring the same artist statement and resizing images, updating my website and pitching new project ideas. I went to grad school so I could eventually teach and was hopeful in landing an adjunct position, but my inbox was emptier than ever before, and by the time spring rolled around, I was beginning to realize things weren't really working…that I hadn't made new work in almost a year…that I hadn't created a body of work since grad school. But most importantly, I realized that no one really gave a damn what I did, and that I was miserable in my desire. In a moment of clarity, I saw my pointer fingers tugging in a finger trap. I was pulling too hard, and my face was wrinkled in frustration. I was tired. And so in an exhale of relief, I imagined my entire body ease up, and in slow motion, pulled out the rug from under a mile-high construct of experiences, singularly stacked and precariously supporting one atop the other, unrelated, and therefore ill-fitted—this decade of undertakings and mismatched adventures fell thunderously to the earth, dirt billowing up all around. I surrendered to the ground, inhaling the dust.
I resolved to just live. To just be myself, and to love whatever form that took. No more conforming, no more agenda. I just wanted to wake up every day and reciprocate love to my family, reach out and nurture new friendships that had recently budded, and do whatever felt right, felt good. No more self-punishment. Thru this embrace, I was able to find a more honest nook in my day-to-day life, which morphed into a new practice (art or not).
I would cook for my parents three nights a week during those early days, and once I decided to stay in town and rented my own place, I hosted monthly dinner gatherings, intentionally pairing groups of people who I knew weren't fully acquainted. My friend and I started
Bring,
a community potluck in which participants contribute raw ingredients, and with the help of a couple chef friends, we'd cook all the food donations on site and present an impromptu, lavish meal to the 30-40 guests who brought the bounty. Cooking and community were themes that came naturally, and opportunities to grow in that capacity rushed in once I let down my guard.
St. Louis proved to be one badass city, and I can't praise it enough. It's off the radar, no art authorities hovering around, no scenes to take part in; this freedom paired with astonishingly cheap rents and uncensored space makes it a friendly location for young artists to take risks in their work. The community is sprawling and overlapping, surprisingly welcoming to newcomers. Here, I learned to listen to my peers, to witness their achievements, to deactivate competitive drive, and to see myself in a tribe mentality. We're all in it together, and the least path of resistance feels fucking good.
But my time there was up. As my mother's illness closed in and she entered hospice, I withdrew. I needed to bleed my pain, and the desert was the only place that seemed appropriate to soothe the sorrow. I had done some solo trips to Utah and Arizona while I was in grad school, and was always enraptured by the west when we visited my dad's family in Southern California. I told my dad that I
needed
to go to the desert, to be engulfed by nothingness, by solitude. He loaned me some money to book a flight, which I did promptly. Feeling awkward with my relatively upbeat news, I ran from my computer to tell my mother, who was lying in her hospital bed that was set up in the dining room where the table used to be. She gazed at me through puffy, nearly sealed-shut eyes. "You've been talking about Joshua Tree for so long, I'm so glad you're finally going there." I was crying and said, "I know." But I don't recall ever telling my mother I wanted to go to Joshua Tree. In fact, I don't even know if Joshua Tree was on my itinerary at the time.
She died a week after that interaction. My trip was still three weeks out, so I didn't cancel it. When I boarded the plane for LAX, I had no expectations. I was about to spend a week meandering through the California desert, and I was prepared for nothing, or anything. Nothing was too big to fear, too challenging to confront. I had just seen death, the ultimate end, and I was ready to take on whatever came my way.
As it were, I survived, and found my heart beating more steadily, my head lifted more confidently, and my body delicately in tune with the alien landscape and arid air that encompassed me. The aliveness I was experiencing was beyond my own understanding, and I felt that I had arrived in my soul's home. Two days before heading home, I took a sound bath at the
Integratron
—an architectural oddity built to summon Venusians and heal the human race. I walked in with an open heart, despite my skepticism, and walked out buzzing to the frequency of some energy vortex I wasn't sure existed, but damn, it did something.
As I was driving back to my campsite in the national park (
White tanks, no. 4
, try it out, it's magical), I saw a restaurant for sale sign. "39000, 29000 OBO." I pulled over, laughing at myself. But the owner was there, and I tried to stay cool while gently probing him. He was retiring and all the equipment was installed, ready to open. Wouldn't find a better deal, had a couple people interested, so come back tomorrow if I'm serious.
I was giddy and amused that I even stopped the car, I knew I wasn't going to buy it, but as I wound through the hills of Yucca Valley and detoured through Pipes Canyon, I thought lightly and succinctly. What future am I returning to? A job in a coffee shop? A life in a place so colored by heavy sorrow and memories? A place where it would be hard to grow in the shadow of my recent loss, where it would be painful to continue. A place I had never wanted to be, but was graced by magic for a spell and taught me so much. A place that I understood I was ready to leave. So why not make a change? Why not weave together these food threads and give it a go?
Right then, driving among the boulders, observing the peculiar vegetation that punctuated the brutal Mojave sand, I decided I was moving to the desert to open up my own kitchen, featuring native desert plants. I went home and told everyone. No one was surprised, until I made the move a year later.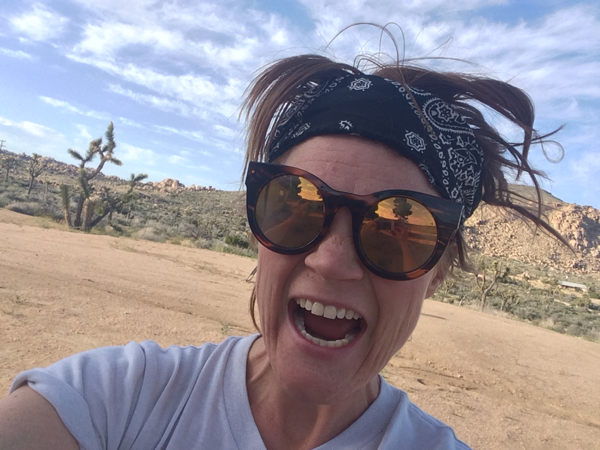 JC:
How did the High Desert Test Kitchen project start?
SW:
Food had been a thread for me since I was in my early 20s. I worked as a market attendant for a biodynamic farm,
WWOOFed
overseas twice, volunteered as the house cook in communal living situations and artist residencies, and was a member of the Missouri Mycological Society, where I learned to identify and forage mushrooms.
When I returned home to care for my mother and jumped into the role of meal planner/cook, my dad remarked that "maybe you should give up the art thing and go into cooking." Nah, I had told him, just because I like cooking doesn't mean I should be a chef. (Mostly my pride was hurt, because wasn't I an artist, but just one who didn't make work?!) That little suggestion stuck with me for a long time, and reinforced my confidence when I began
Bring,
a pop-up potluck event that occurred in random spaces throughout St. Louis. And so when I saw that restaurant for sale on my trip to the desert in 2015, it rang loud.
Sometimes you just have to take a risk, even if it means leaving behind years of training and hundreds of gigs of data and thousands of dollars of student loan debt. Discarding the baggage in tow can be wondrously enlightening, especially if you're holding onto it because you're terrified of what you'll be without it. Naked, and pure! And for me, it turns out that making a major shift in career, or whatever you want to call it, was precisely what I needed. There's nothing more rewarding than getting to do things you find engaging and enjoyably challenging, all day every day.
I was feeling pretty intimidated with this whole concept I had been pushing, especially since I wasn't all that familiar with desert plants and knew only what little I could glean from field guides I studied while still living in the Midwest. And I've never been good at charging money, so I thought working on these ideas with a friendly group, like a regular dinner club, would be a nice way to ease into these plants and build confidence, all the while getting people stoked about the radical ecology that surrounds us. And so while we were in her weaving studio, I casually pitched the idea to
Andrea Zittel
to get her feedback. It's pretty simple—every month I choose a different desert plant, provide some background information on its traditional uses and where you might find it, and then anyone who would like can bring a dish to that month's potluck that somehow incorporates that ingredient, be it directly or inspirationally. She came back to me a week later and asked if I wanted to try it out under the umbrella of
HDTS
(High Desert Test Sites). We're having our 10
th
potluck dinner this month, and I'm thinking about ways to expand the project to keep it fresh for its second season.
JC:
What plant or mineral have you been most excited to work with?
SW:
Hmmm….I love all the salvias (sages), their flavors take on this rejuvenating quality—slightly medicinal, but also brightly savory, with borderline cooling affects to the tongue (which makes sense since they're in the mint family.) But I'm really curious about insects—I picked up a dead fly this morning and smelled it, and was completely shocked that it smelled like birthday cake. Maybe there's something I can do with the glut of moths taking residence in my bathroom right now.
Aroma, not appearance, is what really catches my interest. I spent the majority of April and May identifying plants growing near my home (situated in a transitional zone where the Joshua tree plant community intersects with the pinon-juniper belt) and so many of the plants have utterly unique aromas that activate all kinds of bodily sensations. I still have to conduct more focused research pertaining to toxicity before I can bring a few of my favorites into the kitchen, like the delightfully odiferous "hole-in-the-sand" plant. Which I can only describe as divinely sweet, but with a nauseating putrid note, creating intense, conflicting impulses that makes me want to simultaneously eat the flower, have an orgasm, run until I can't, and vomit. It's really something special.
JC:
Have you identified a shift from making artwork and performing to HDTK which encourages a communal and maybe more author-less space?
SW:
HDTK isn't my first foray into a more socially-oriented method of working. Before grad school, I had this nagging feeling that cross-disciplinary action was my future. As a youngster chasing that existential purpose, I said goodbye to NYC to do my first residency and really "be an artist." Just so happens that this first place was
Elsewhere
, an artist residency in Greensboro, NC that heavily promoted collaboration and event-based work, back in 2007 when that kind of work was still a little off the beaten path. There, I formed a few long-lasting partnerships and found that art didn't always have to be about me, or about my problems. It could be about the world's problems, or not about problems at all.
I wanted to make work that acted as a ladder for people to climb and see new possibilities, and in preparation for grad school applications, I executed a series of public art installations centered around themes of consumption and waste, hoping they might prompt people to make personal commitments to living more sustainably. So I had this slant, which is why I wanted to go to MIT so badly. The program there was the only one using terms like transdisciplinary and research together. I thought it would be perfect…but I ended up making a very complicated and multi-pronged body of performance work that explored the ways in which one is influenced, rather governed, by their environment. Or really, just related my anxiety of being in a hyper-technological, capitalist environment, and warning everyone that if this rate of exponential technological advancement continues, we're all going to become robots.
With HDTK, I find a balance between my need to be steeped hardcore, and the need to be a gentle social creature. On the one hand, I can get lost in the plant research, borderline obsession—not unlike nights in the studio, furiously banging out some text, or assembling parts of an installation desperately needed for the next day's video shoot. It's a fury, and I think a lot of artists carry that gene. I recently finished an
Instagram project, "a-plant-a-day,"
in which I challenged myself to identify 30 plants over the course of a month during the spring bloom season (which is really the best time to nail down a species, flowers say it all.) But I couldn't put it away. I was falling asleep with the light on, field guides crumpled under my pillow the next morning. Everywhere I walked, I was wagging my head to either side, looking for new species to identify. After one particularly long, hard hunt for an edible species that I was seeking from my car window, I had to pull over to expel the results of motion sickness.
But there's that other side of me that really wants to identify with others, to be a member of the community and share my curiosity, maybe spark something in someone else.
With the HDTK dinners, it's about being a good neighbor, about being a steward to the land, about learning from each other.
I try not to control the group dynamic, and just want everyone to have a good time; that's the goal, for everyone to feel like they belong, that they have this monthly event to call their own, whether they bring a bowl of fruit from the store, or foraged the ingredient in their yard and made a cake with it. Only a handful of people show up with something they crafted using the plant of the month, but those who do exhibit this genuine excitement to share the story of their culinary findings when we gather around to briefly discuss what we're about to eat. And they are deservingly proud. Sometimes the ingredient is hard to find, so people adapt and bring a more commonly found vegetable from the same family, or look for something with a similar flavor profile. To witness how people have taken this challenge home and really considered their contribution makes me feel like I'm organizing something worthwhile, that there's a level of interest and commitment from others that breathes life into the project. To hear the testimony of these individual interpretations, and then to taste the resulting dishes, that's the heart of the project. To share.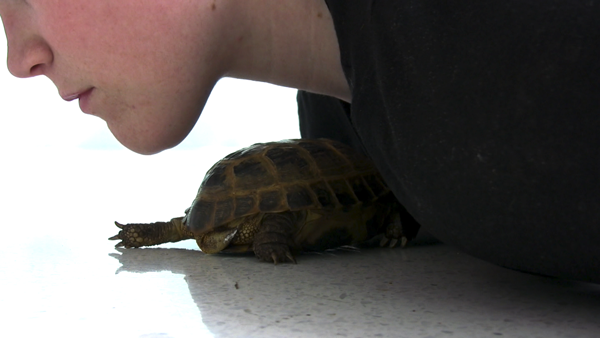 JC:
Walking or wandering seems to be an important part of your life.
SW:
I once told my therapist that if there was anything I could and would like to do all day, it would be walk. I love the methodical moving through space, the mind floating through its own space, everything lubricated and functioning. But really, it takes time to break into a walk, to get to that space of freedom, where nagging thoughts of the "should be need to be" eventually give up and a clearing is made for more discursive, productive chatter. Longer walks, two to three hours, that begin in early evening, and overlap into the darkness of nightfall are most satisfying—witnessing the completion of a cycle, acknowledging that I submit to that cycle. I'm surrounded by BLM land, so any dirt road I take from my driveway leads to the solitude of wilderness where you're so far out in the rocks that you can't hear cars, or the hum of power lines, or anything really. Not even ambient sound. Just your own breathing as it mingles with the silence. It can get pretty surreal, almost spooky. I miss walking in cities too, where you first begin dialed in, but end up being immune to the chaos surrounding you—a child-like escape to the subconscious. Here, it's kind of the opposite. The longer and farther I walk, the more aware I become, the more I notice. It can get pretty cerebral.
JC:
If you could describe the smell of rain in the desert how would you describe it?
SW:
You know, I think almost everyone I know out here would romantically gush and squint really hard while they smile real big and say, "creosote," which is a ubiquitous, pungent medicinal plant with a plastic, noxious odor. But I don't think it always smells like that. For me, it smells earthy. The first time I visited the property where I now live, it had been pouring for days, only to pause briefly while I crept around, surveying the abandoned house. I remember pulling up this driveway, seeing the contorted Joshua trees haunting the backdrop of gray cloud cover, and getting out of the car. It smelled frightening almost, kind of like this musty potential that was gently infusing the air with the essence of latent aliveness. The air smelled very present, very receptive to the moisture. When it rains, I'm reminded of playing in the backyard after summer thunderstorms—a sense of relief, of renewed excitement to be outside and see everything glistening with dew in golden afternoon light.
JC:
What has the desert landscape taught you that you that you did not expect?
SW:
I imagine many things. But I've not yet reached a pivoting point where I can look back and assess. I'm still in too deep to know. I don't know if I need to know.
JC:
What's next?
SW:
I'm hoping to start a regular dinner series based on individual plants. Like a four or five course menu that really takes into consideration every single aspect of a species—not only as an ingredient to be tasted, but as fodder to shape the entire evening. The coloring of the corolla—is it prideful in the spotlight, or subdued? Maybe overwhelmed by an intricate, patterned structure formed by delicate branches? How do I convey the weight of a stem, the fleshy—or maybe hairy— texture of its petals? The habitat where I found it…how can these things be brought to the table? How can I deliver an ultimate aesthetic experience to a community of curious diners? How can I be a steward of this remarkable, fragile land? How can I share it, and simultaneously help preserve it for future wanderers?
But these are just questions. And for the first time in my life, I don't have a sense of urgency. I feel committed, and that's enough, just knowing I'm present. That's the hard part. The rest follows suit.
---
Sarah Witt no longer has a CV, nor does she maintain an active informational bio. It becomes a lot to live up to, a too-conscious creation of the self. Rather than relying on past accomplishments and dry statistics, she hopes that curious parties will look into her everyday interactions and, if witnessing from afar, will refer to specific projects to get a clear picture of what this person is like.
For the time being, Sarah enjoys cooking professionally at La Copine Kitchen in the high desert, walking long and far for no reason, and researching the desert from culinary and ethnobotanical perspectives. High Desert Test Kitchen, an ongoing monthly potluck supported by High Desert Test Sites, features wild plants growing in this region.
Jodie Cavalier is an interdisciplinary artist working in Portland, Oregon. Cavalier received her BA from the University of California, Berkeley and MFA from Pacific Northwest College of Art in Portland, Oregon. She has participated in residencies at; the Center for Land Use Interpretation in Wendover, Utah in 2014, Wassaic in 2016, and AZ West Wagon Encampment in 2017. Her work has been exhibited at the Schneider Museum (Ashland), the deYoung Museum (San Francisco), Pacific Film Archive (Berkeley), CoCA (Seattle), EXO Project Space (Chicago), Städelschule (Frankfurt), among others. A new body of work will be on view at Anytime Department in Cincinnati this July 2017.