Rachel Rampleman
Born and raised in the suburbs of the Midwest, Rampleman's various bodies of work explore subjects like gender, artifice, and spectacle through the tinge of a very American lens. Part directorial, part curatorial, and part anthropological, she probes into oft–overlooked elements of American culture to reveal an expanded landscape of American life. Her astute observations—awash with empathy and rife with psychological complexity—hint at an underlying dissonance that straddles the absurd. Rampleman's work frequently showcases strong female personalities—women who are simultaneously aberrant and superhuman—who challenge the common clichés of masculinity and femininity and who often assume roles typically associated with men. This is a landscape where sexual braggadocio, heavy-metal rock stardom, or muscularity have become characteristic of feminine prowess.
---
States of Grace: The Body 'Studies' of Rachel Rampleman - Alex Young
I tried to rearrange the sexual elements of a girl's body like a sort of plastic anagram. I remember describing it as thus: the body is like an endless sentence that invites us to rearrange it, so that its real meaning becomes clear through a series of endless anagrams. I wanted to reveal what is usually kept hidden – it was no game – I tried to open people's eyes to hidden realities.  -
Hans Bellmer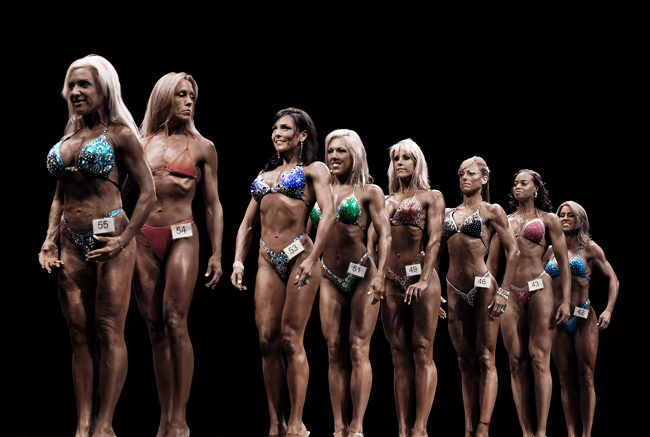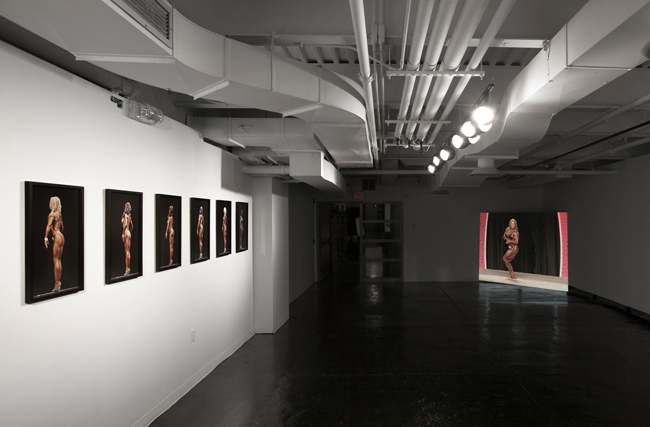 Blanketed in the crepuscular hues of the stage light, a solitary body is captured in a moment of baroque configuration. Before the noirish elsewhere of the black curtain, the body is seen center frame, by turns: flexing, convulsing, contorting, twittering, undulating, slinking, all in hypnotic continuum. Though a discrete entity, it is adjoined to a multitudinous corpus of analogous others. Each a subject within its own shadowy confine. Each entwined with the next in an assemblage of kindred morphologies.  Each a captive within an indexical phantom zone: isolated, collected, classified.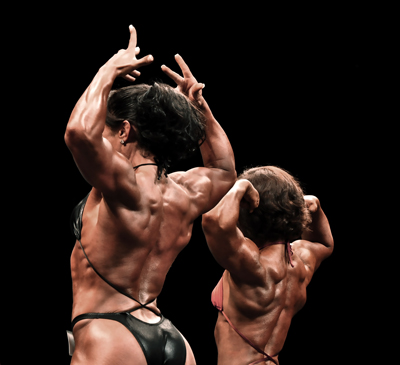 The bodies are female. Their forms more-or-less familiar. Their movements in most cases stock-in-trade. Within the video groupings that comprise Rachel Rampleman's
Studies
, the body is at once rendered as an irreducible element of rote enactment and the product of an illimitable potential. Distinct from the determinist logic of physiognomy, zoology, et al. the resultant taxonomies within the
Studies
(
Bodybuilders, Night World, Nocturne, Red Room
) present each specimen as an agent of its own production through an emblematic act of individuation, self-signification, and body image-crafting.
Within the
Studies,
Rampleman casts the body in an ontologically dynamic role of
becoming
. Though documenting subcultural mores, from the construction of the
hyper-femme
in the showgirl's burlesque to the
hyper-muscular
of the female bodybuilder
,
Rampleman conspicuously does not delimit the body to bush league nature/culture binaries. Furthermore, the attendant culture of ogling and its asymmetrical power structure that is so much a part of each world appears to be either absent or of marginal concern. Rather, the
Studies,
in singling out consonant points within a capacity for
becoming
, present each body as the incompossible reality of a moment wrested from external referent. Moreover, the process of
becoming other,
as disclosed within, functions as less a part of culture shaping nature than as an inherited characteristic of nature worked to an extreme.
In
becoming
, the body is continuously composed and reconfigured.  Much like the plastic anagram of female parts composing Bellmer's infinitely malleable
Poupée
(elsewhere referenced in Rampleman's
oeuvre);
the bodies in the
Studies
reveal hidden realities through the repetition of difficult rituals of form and motion. However, unlike Bellmer's condensations of the physical unconscious, the
Studies
present conscious enactments from the very palpable realm of the real. The flex opens out to an archive of evidence of environment and action. The erection of a leg from bridge position or the gyration of the pelvis defines the conditions of the cultivated body. Repeating, the body demonstrates its motion in perpetuity, churning on as a fixed unit within a series of endless anagrams.
---
Rachel Rampleman was born in Cincinnati, Ohio and currently lives and works in Brooklyn and Esopus, NY. She studied at New York University's Steinhardt School of Art & Art Professions (MFA in Studio Art) and the University of Cincinnati's College of Design, Architecture, Art, and Planning (BFA in Electronic Media). Best known for her witty and acerbic video work challenging gender stereotypes and constructions of 'feminine' identity, she has had solo and group shows as well as screenings in New York at the Brooklyn Academy of Music, Socrates Sculpture Park, SPRING/BREAK Art Show, Cynthia Broan Gallery, NP Contemporary Art Center among others. Internationally, her work has been shown at the Shanghai Biennale (Brooklyn Pavilion, 2012-13), China, JAM in Bangkok, Thailand, and throughout Europe at Art Cinema OFFoff (Ghent, Belgium), Monte Arts Centre (Antwerp, Belgium), C/O Berlin, Die Fruhperle, and The Secret Cabinet (Berlin, Germany). Most recently, Rachel had an early career retrospective on view at The Center for Exploratory and Perceptual Art (CEPA Gallery) in Buffalo, New York. rachelrampleman.com
Alex Young is a research based artist, designer, writer, and curator based in Pittsburgh, PA. His work explores the motivating factors and end results — and the subsequent potential for disconnection between the two—in the construction of the built environment. His solo and collaborative works have been presented at numerous venues internationally including Conflux 2012 and Flux Factory in New York, NY; Kiasma Museum and Alkovi Galleria in Helsinki, Finland; ACC Galerie in Weimar, Germany; Stadtische Museen Zittau in Zittau, Germany; Spanien 19C in Aarhus, Denmark; Incident Report and Bard CCS Hessel Museum in Hudson, NY; SDAI in San Diego, CA; the Beyond/ In Western New York Biennial and Hallwalls Contemporary Arts Center in Buffalo, NY amongst others. www.worldshaving.info