An Interview with Pam Longobardi by Celina Jeffery
Descriptive text supplied by the artist.
Pam Longobardi's parents were an ocean lifeguard and the Delaware state diving champion, connecting her from an early age to the water. She moved to Atlanta in 1970 and saw her neighborhood pond drained to build the high school she attended. Since then, she lived for varying time periods in Wyoming, Montana, California, and Tennessee, and worked as a firefighter and tree planter, a scientific illustrator and an aerial mapmaker, a waitress and a bartender, a collaborative printer and a color mixer. Her artwork involves painting, photography, and installation and addresses the psychological relationship of humans to the natural world. She has shown her artwork across the US and in Greece, Monaco, Germany, Finland, Slovakia, China, Japan, Italy, Spain, Belgium, and Poland. She currently lives and works in Atlanta and is Professor of Art at Georgia State University. Presently she drifts with her ongoing Drifters Project, following the world ocean currents since 2006. With the Drifters Project, she collects, documents and transforms oceanic plastic into installations and photography. The work provides a visual statement about the engine of global consumption and the vast amounts of plastic objects and their impact on the world's most remote places and its creatures. Longobardi's work is framed within a conversation about globalism and conservation. She participated in the 2013 GYRE expedition to remote coastal areas of Alaska and created project-specific works for the exhibition at the Anchorage Museum in February 2014. Longobardi was featured in a National Geographic film on the GYRE expedition and her Drifters Project was featured in National Geographic magazine. Also in 2013, Longobardi created a site-specific installation for a special project of the Venice cultural association Ministero di Beni Culturali (MiBAC) and the Ministry of Culture of Rome for the 55th Venice Biennale, on the Island of San Francesco del Deserto in the Venetian Lagoon, a work made from plastic water bottles, mirrors and a satellite dish that signaled an apology to St. Francis across the lagoon to the island of Burano. She exhibited photography in Seascape at George Adams Gallery in New York, and won the prestigious Hudgens Prize (2013), one of the largest single prizes given to an artist in North America.  She has an ongoing collaboration supported by the Ionion Center for Art and Culture in Metaxata, Kefalonia, Greece. In 2014, Longobardi was awarded the title of Distinguished University Professor, and has been named Oceanic Society's Artist-In-Residence.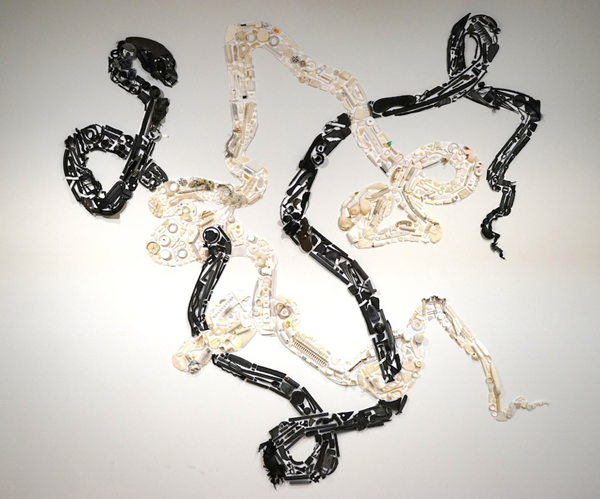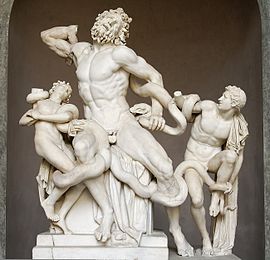 This work updates an ancient Greek sculpture of the complex mythology of Laocoon, a priest of Poseidon who warned of the danger of the Trojan horse, and was thus punished by an attack of two sea serpents sent by Poseidon who killed his two sons. Seen as the symbol of a 'voice of warning,' Longobardi's Newer Laocoon gives voice to the ocean, now sending plastic back to us to warn us of its damaging effect and her state of ill-health. Longobardi envisions black and white serpents representing a balance evocative of the yin-yang symbol as a necessary next step in humanity's realignment with nature.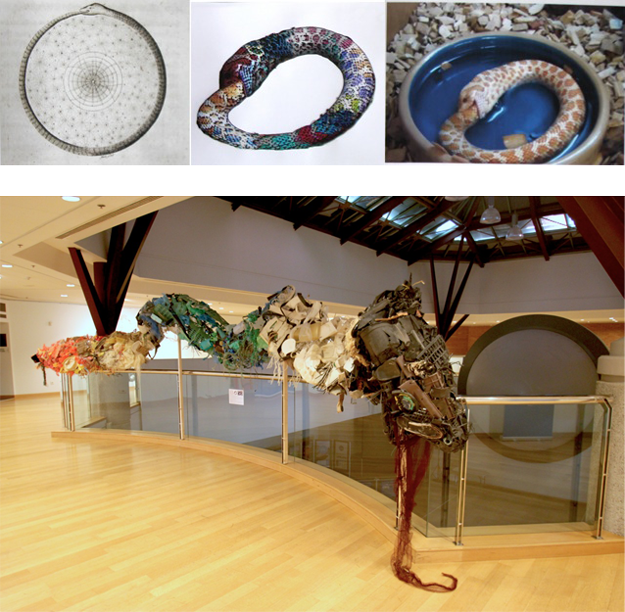 As an image that exists in nature as well as mythology, it was the basis for the envisioning of the structure of the carbon molecule as a spinning snake devouring its own tail. Real snakes in captivity, when under deep stress will also eat their own tails. As it has transformed for the exhibition here, the snake has died, and is held up as a trophy skin, similar to the taxidermy animal specimens of the Goulandris Museum collection.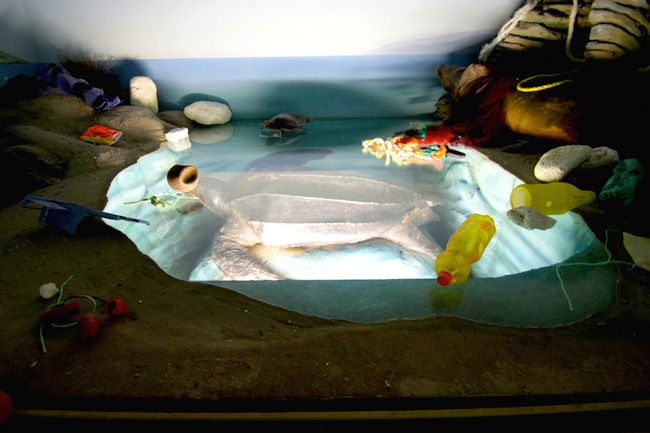 Entanglement in abandoned or discarded fishing nets and ingestion of vagrant floating plastic is a slow and painful death for many aquatic creatures. Sea turtles and land animals often eat plastic bags which appear like jellyfish or other food sources.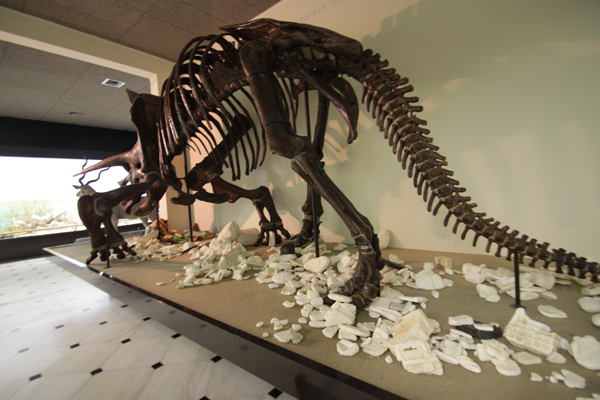 Ancient life forms in death created the petroleum that is now the primary source material of plastic production, seen here arranged as a contemporary landscape with the fossilized bones of the Triceratops.
429 pieces of vagrant oceanic plastic from Greece, Hawaii, Costa Rica and the Gulf of Mexico mounted on steel specimen pins. Black plastic is the most ubiquitous and least recyclable type of plastic. It reveals its origins in oil. Plastic objects are the cultural archeology of our time, a future storehouse of oil, and the future fossils of the Anthropocene. The Deep Water Horizon Disaster is a crime that has not seen full justice and whose future long term damage continues to unfold.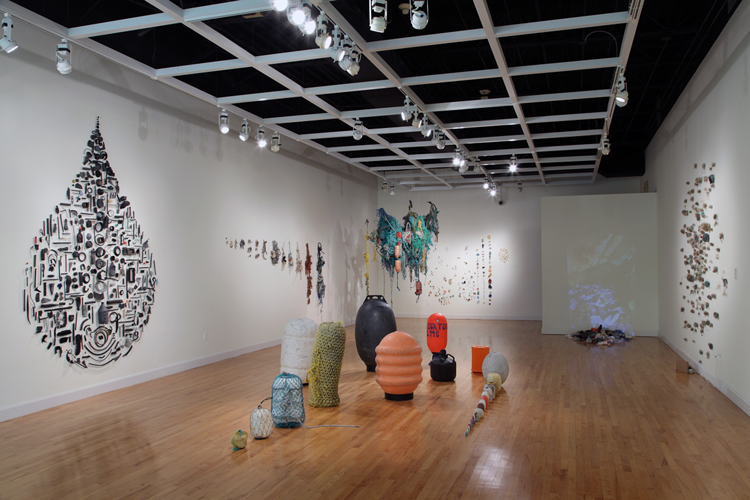 Celina Jeffery: The Drifters Project involves the collation of plastic from beaches around the world, followed by a kind of creative intervention and transformation in a gallery context. You've described plastic as a 'cultural archeology of our time', what does this mean to you?
Pam Longobardi:
During grad school, I used to work in natural history museum in Montana called Museum of the Rockies. I was scientific illustrator for Jack Horner, world-renowned paleontologist and also a mapmaker for the museum's historian. I drew dinosaur bones and eggs, and did aerial maps of homesteads on the Lewis and Clark trail. The best part about museums often are the storage archive: the massive shelves and drawers in the basements. You can have an exploded tyrannosaurus rex skull splayed out on a table that you can try piecing together on your drawing breaks, next to a taxidermied coyote side by side with homestead artifacts from the early 1800s. All these things collapse for me in the drifting ocean plastic object: it IS an artifact of my specific human evolutionary time; it IS made from petroleum that is the fossil sunlight and ancient plants, animals and yes, dinosaurs, that roamed the past Earth; it IS a biological raft for invasive creatures; it IS a toxic floating time bomb that is changing the human and animal body and the very ocean itself; and it IS a future fossil of the Anthropocene.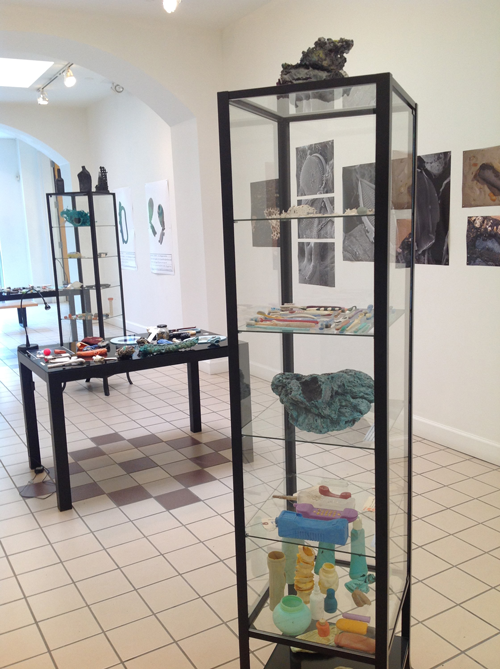 CJ: Can you discuss your practices of collecting? Are you thinking as an artist, scientist, activist – does it matter?
PL:
I don't think it matters to delineate teased apart roles because it is the hybridization of these things that is the heart of the matter… I am all those things and it's in the hybrid space that a more interesting eye comes into play. I don't like the artificial hierarchies of those roles from a U.S. cultural role, which usually goes: Scientist-Artist-Activist in descending order, and that whole group is far below: Sports Star-Media Personality-Big Business Tycoon-Internet Pulp Monger-Politician and where do : Intellectuals-Grass Roots Activists- Philanthropists-Altruists fit in? Luckily I think all these are currently in a state of collapse, and we are all witnessing this. But more to the point, the entire planetary structure of physical systems of nature is in collapse, and for me, that is why the act of collecting, documenting, analyzing and protesting this collapse as referenced through the physical marker of the plastic object is of utmost and urgent importance.
Specifically, my practices of collecting are even less easy to talk about, because they verge on the mystical and metaphysical. For whatever reason, I am presented with highly potent and almost magical symbolic objects that I feel are a direct communication with the other; give it whatever name you want: the ocean, nature, the cosmos, the pre-potent order of matter, life force, creative engine, shamanic insight, morphic web. It has happened too many times, over and over, that I find discarded garbage objects that are portentous metaphoric signs, sometimes ironic, other times encouraging, sardonic, and often humorous. I can give examples: finding only 2 pieces of plastic in a long, water filled tunnel cave known to be a site of lovers tryst, 2 bright red phallic objects( I later named it the Priapic Cave); finding tiny plastic baby in a very small cave; finding a shred of plastic with the word: ACTION on it near a cave (previously cleaned by me) that had been 'adopted' and cleaned regularly by the nearby beach cantina; in a difficult moment of self-doubt, finding a run-over badge in the street with the words emblazoned: 'With Courage, We Soar.'
CJ: Is there a particular approach or strategy of conversion are at play when the plastic enters into an artistic forum or space?
PL:
I'm interested in plastic as an alien substance, a kind of dark matter. I'm interested in what plastic makes us do, this substance itself has transformed human behavior, and it has become the ultimate form of detachment and shift to valueless-ness.
If plastic functions as a dark material shadow of humanity's repressed fears of horror vacuii and ego dissolution, it surely plays the role of surrogate for human reach exemplified by our endless quest for colonization and world-creation. We have made the most versatile material substitute imaginable that can go anywhere and do or be anything. With the ocean as our accomplice, plastic is now everywhere on Earth in a form more pervasive and permanent then our ego fulfilment could have ever dreamed. Yet more pointedly than seeing plastic as a representation of our ego, we have created the near perfect physical form of the id. The seeming innocence of desire and appetite has become supersized, overblown so as to detach itself from all connection to reality, and usher the subsequent repression associated with our denial of the ramifications of continued overproduction of the solid pre-waste material.
I guess the conversion strategy that occurs when plastic enters artistic space is that it comes in free of associative background such as site location and conditions of discovery, the adjacent filth or death-like aura that sometimes accompanies these objects in situ on beaches and in caves (they don't always have this and many times appear clean and scrubbed by the cleansing processes of the ocean.) So now it is a free-floating object that can be either recombined with other objects in a new association to form a larger imagistic form, or can be archivally presented with my notational tagging, and presented in display fashion with scanning microscopic photographs of surface colonization as in the 'Forensic Lab for the Study of Plastic's Crimes Against Nature.' But lifted from its zombie status as lost object/trash/discard, the plastic functions in a more pure form as a 'mirror' in that given the non-threatening appearance of display functionality, it engages extended looking which allows the horror of this material, and one's personal associations to it, to seep in slowly and through the back door of consciousness, so to speak.
CJ: A recent Ocean Conservancy report estimates that by 2025, there could be as much as one ton of plastic for every ton of finfish, a truly staggering statistic. As an artist who primarily engages with oceanic plastic waste, I'm curious to know how you situate your work; do you think of your practice as visualizing the problem, exploring creative and ethical solutions and, or a kind of personal narrative?
PL:
I am a seeker, documenter, cataloger and communicator of my particular time walking (and swimming) on this planet: our global culture is in the process of life-altering change, and I feel that my work bears witness to this. My work is an act of discovery and then translation, as I want to communicate all the information from highly sentient entities I feel the ocean and the non-human portion of the planet is, and as a challenge to a status quo passivity. It's also something else: it's a somewhat mystical experience for me. Specifically, I engage with sites in a sensory way with a highly tuned awareness, and because of having cultivated this state of mind over many years of rigorous attention, I feel that I have a kind of heightened sensing mechanism, and in particular, that I have an instinctual feel about where to look to find extraordinary things. This interaction feels like a form of communication, and interested as I am in science and scientific explanations, I am more interested in this kind of process of communication, one that is unable to be defined or categorized. All I can say about this is that it's immensely engaging and fascinating.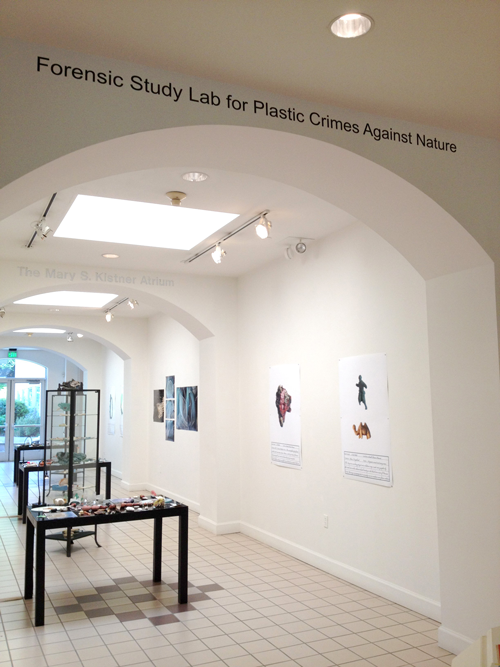 CJ: You've described your position as an artist as a kind of 'forensic scientist, examining and documenting' oceanic plastics as if you are 'identifying the evidence of the crime'. Can you elaborate on this expansion of creativity into the scientific? How have you incorporated scientific inquiry into your practice? Secondly, few artists or scientists engage with environmental degradation as a truly 'criminal' or legal issue. How has this manifested in your work?
PL:
I have background and training as a scientist that I undertook because I wanted to understand my subjects better (I put myself through undergraduate and graduate school by doing scientific illustrations), and am fascinated by the quest to understanding things better. I see some aspects of the methodology of the artist and scientist as very similar: long periods of intensive research, immersion in materials to better understand their properties, inquisitiveness and curiosity as driving forces, a desire to unpack 'reality' to better understand our relationship to it. I even teach a course in this. But artists give more credence to all forms of knowledge, where the conservatism of empirical science limits credence to 'objectivity', which is of questionable certainty anyway, and is dismantled more and more every day. What is objectivity anyway but a kind of restriction of possibilities? It is a self-imposed limitation of describing and knowing the world via an alpha-numeric database of measurement calibrated with limited measuring devices. It is NOT the whole story. We live in a mystical world, far more fantastic and interesting than anything we will ever be able to understand. While I respect and am interested in scientific understanding, it's just one part of a much richer and more complicated reality.
I do see much of human activity as crimes against nature. I am interested in the agency of non-human creatures and even entities, like the ocean or nature itself. There are many forms of consciousness, and we have a particularly self-limiting one. Because we are not separate from these things. And yet somehow we must be the stupidest creature to ever evolve because no other living being knowingly destroys itself and its sustaining sphere. I absolutely see many corporations as criminal, which are allowed to commit crimes that hurt vast portions not only of physical nature, but other humans as well. The fatal evolutionary flaw of humanity is greed.
CJ: Oceanocide is a term that I find fitting to describe the catastrophic effects of anthropocentric behaviour upon the Earth's oceans and yet it has little currency or indeed usage. The artist Mark Dion uses the term in the exhibition catalogue Oceanomania (2011) and journalist, Claire Nouvian has frequently cited it, but they are amongst a few, whereas it has no presence within science publications whatsoever. This is surprising given the many reports highlighting the presence of vast and seasonal 'dead zones'. In what ways are you using the term and shedding light on it?
PL:
In 2011, I was invited by Mark Dion, Sarina Basta and Cristiano Raimondi to participate in Mark's big project in Monaco, OCEANOMANIA. We had met a few years earlier through my book
Drifters: Plastic, Pollution and Personhood
, and Mark began talking about projects involving the ocean as a commemoration of the 2010 Census of Marine Life, which in an attempt to form a baseline of oceanic species loss, revealed that near 90 percent of the top oceanic predatory fish were already gone (see The Next Genocide:
http://www.nytimes.com/2015/09/13/opinion/sunday/the-next-genocide.html?mwrsm=Facebook&_r=0
).
The suffix '-cide' is entirely appropriate here because this is truly a murder scenario and nothing short of it. Intent to kill on such a vast scale can only be likened to human extermination campaigns because of its wanton disregard for life that, by extension, includes
all
life on the planet because without a living healthy ocean, we are also committing suicide.