Adam Kaasa
Every document in the archive, every object explodes into a multiplicity of texts, other objects, memories and narratives that, for most of the time anyway, are content to be contained within the lacquer of a porcelain bowl, the shape of a wooden leg on a chair, or the whitewash of a modernist villa.[1]
What follows begins with the morning light on the window shutters of Monaco and ends in ashes. The first section recounts an architectural pilgrimage to a famous whitewashed modernist house on the crags of Roquebrune Cap-Martin just east of Monaco, Eileen Gray's E.1027 completed in 1929. The second part considers the relationship between our contemporary affliction with uncovering the deep history of personal genealogy and monumental efforts of archiving (a particular form of) architecture. Taken together, I ask the questions: What are we looking for when we look through the archives? What do we hope to feel when the last modernist light switch is restored in the modernist villa? What do we gain when we archive architecture?
1 Eileen Gray's E.1027
In February 2010, I took a trip with my partner and his mother to Monaco, or actually to Beausoleil, the slightly more affordable French edge that meets the city-state. From the balcony of our Ikea-inspired 'home-away-from-home' the silk blue of the early-spring sky met the carnivorous blue of the Mediterranean, and the cacophony of rooftops led the eye down the hillside to the palms near the shore. In the morning, I wrote:
Someone opens their green shutters for the fresh sun on yellow house… It's yellow and pink and white and tile red and pasted blue and green and dark moving ocean blue and cloud grey whispy gold sun glare blinding and heat. The colour of heat on morning face—waking up morning face heat against small slit eyes can't see morning.[2]
On a day, we meandered train-like to Italy and back, along the crags and blue to Roquebrune Cap-Martin—the site of Eileen Gray's E.1027—a modernist house she designed and built between 1926 and 1929. E.1027 was so named 'E' for Eileen, 10 for Jean ('J' being the tenth letter of the alphabet), 2 for Badovici and 7 for Gray (Jean Badovici being Gray's long time associate).
We would have just over an hour in Roquebrune-Cap-Martin before sunset. Ever since hearing off hand that Eileen Gray's house, E.1027 was but 5 minutes away by train, I was eager for the chance to see it myself. A desire to bridge 'the unique phenomenon of a distance,'
[3]
to experience a moment in international modernism. An ironic monument, the protagonist in a documentary
Gray Matters
(dir. Marco Orsini) and a feature film
The Price of Desire
(dir. Mary McGuckian) in 2014, the villa was being refashioned in the guise of a marker on the 'Promenade Le Corbusier'
[4]
as part of the French National Government's cultural tourism plan.
I got in touch with Gering & Lopez Gallery in New York leading the fundraising charge at the time for the restoration:
Dear Adam,
Thank you very much for your interest in E.1027! The villa is not currently open to the public, as renovations are still underway. The villa is scheduled to reopened at the end of 2010, but if you contact Jean-Louis Dedieu, he may be able to arrange a viewing.  His contact information is as follows:
Jean-Louis Dedieu
T: 04 93 57 69 48
Hotel de Ville
06190 Roquebrune Cap Martin
I understand that this is on short notice, but I do hope that you are able to reach Jean-Louis and view E.1027.  Best of luck!  Please do not hesitate to contact me if I can be of any further assistance.
Kind Regards,
Michelle
Michelle Brown
Foundation Administrator and Liaison
Friends of E.1027
c/o Gering & Lopez Gallery
730 Fifth Avenue
New York, NY 10019
We never met Jean-Louis—instead forgiving our own trespasses to see the building ourselves.
2 Photography as experience of ruin
'This is our stop.'
Movement off the train, and I, carrying a bottle of olive oil and some acacia honey ('You'll have to carry that all day if you buy it'), bounced down the steps to the platform in the shade. The small station seems vast in the off-season February breeze. A woman, blond in black, instructing what looked like a contractor—preparations on the estate for March on that golden coast. And miles to go.
A train rumbled by at high speed and higher sound. I thought to the blond in black, her estate near the tracks, and what horticultural feat is required to subdue the sonic impression of schedule on decidedly lingering and leisurely sun-drenched afternoons.
We found a blue scarf and tied it to a fence. I took a picture. Unsure if we were on the 'pilgrimage' path, but unwilling to risk passing on the evidence of being on such a path if ever we were to find out it was. An evidence like Talbot's mute testimony, the photograph in court outweighing the 'drawing or a descriptive list,' the 'truth of an indexical rather than textual inventory.'
[5]
A: The Approach.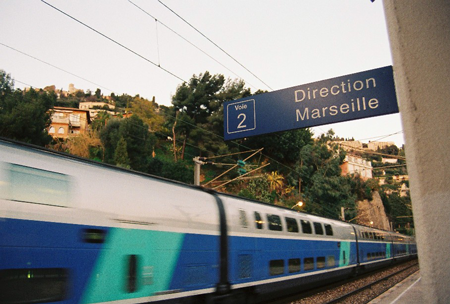 'Here's a trail,' I thought. I remembered something like it when I zoomed in on the map. A trail down from the retaining wall of train tracks to the cliff side of sea below. We followed it down, the steps paved in large stone and the leaves above clasping across to block out the light. I took another picture.
B: The Trail.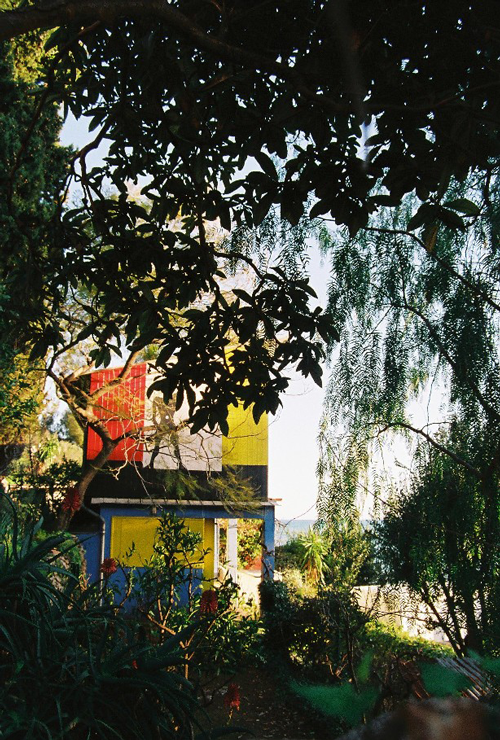 I saw buildings behind twelve-foot fences, I jumped and said, 'I think that's the Cabanon.'
'How can you tell?' asked my partner's mom.
'It just looks like it, I think. Well, maybe not. There's murals on it.' Still—you never know. I took a picture.
C: Le Corbusier's Cabanon.
[6]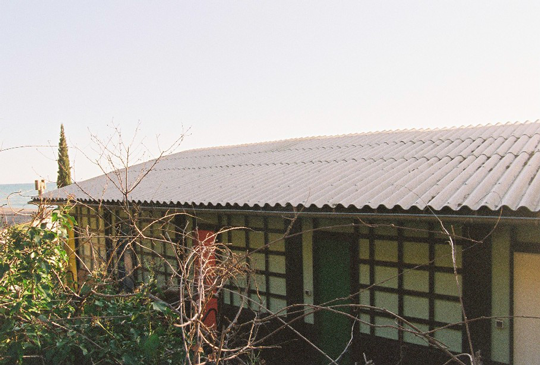 'And I think that white bit through the gate is Eileen Gray's house.'
Again, the slight hesitation, 'Really? I don't think we're in the right place.' I took another picture in an attempt to create the
right
place through assertive photography. Take pictures of anything and it becomes important.
D: The backend and out of focus roof of E.1027.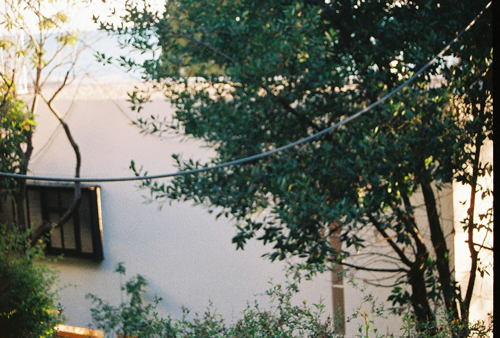 A few more steps and we came to the edge of the trail at a 'T' intersection. A thin railing marked the edge of the cliff side path, and below the sunset sea, a strong breeze and an angry not ready for
azure surf. To the right was a path down to the beach. And further on to the blond in black's compound. To the left, muddied leaf-strewn steps with that faint and heart stopping word sprayed on in black paint,
Privée
(private).
My partner took a few saturated photos for good measure and the three of us wandered back up to the 'promenade' still unsure if we had seen what we had seen.
Moments later, we happened across the official restoration sign posted on the site by the French National Government. We
had
seen E.1027. It is a strange thing to navigate not knowing what one is seeing, only to find out either way later on, the reassuring signpost in a generalized bureaucratic style authorizing the experience.
'This
is
the house!'
I turned and whispered, 'That private walk way. I bet we can access the house from the coast. I just want to
see
it. We're so close. Even a glimpse through the fence, a close up.'
We hesitated at those words in black, and pretended to admire the sunset (twenty minutes left) while a family sauntered casually up from the beach. Down we went on the slippery steps and grown-over cliff. A continuous trickle from a drainpipe flowed distractingly to the waves crashing below. Unwilling to go any further (cliffs, waves, growth, and trickles), we climbed up on the drain pipe, clinging to the corner edge of the property fence, just able to see through chain-link the main entrance stair case.
E: Modernist staircase.
Frustrated at the distance remaining between us and the house, at our inability to touch its walls, or at least have the option of being so close so as not wanting to touch the walls, we headed back up to the trail, our photographic archive in hand, having seen, though not having been revealed, fractured sight lines of the architecture turned archive, of the built form turned ruin turned monument turned art.
Back at the sign posting the restoration, the bureaucratic unreadable sign with no end date listed, we looked at each other that kind of knowing look, that kind of abetting look. That dissatisfaction of distance remains. Our photographic evidence of having been there, of capturing in some real sense the authority to remember being here, was left wanting. Glimpses and ganders were not enough. We wanted to satisfy the 'urge…to get hold of an object at very close range by way of its likeness.'
[7]
We returned to face the black letters of the private walkway once again, determined to climb the craggy coast in hopes for the reticent reward of an unobstructed view. My archive begged for more substantial (mute) testimony, and the sun had set, but not the sky. We moved rapidly and unthinking in absorbed contemplation down the muddied steps, past the trickling drain pipe, across crags and grown over rocks, and up, up to the edge of the property.
Here, in front of the villa, in front of E.1027, we photographed:
F: Full house.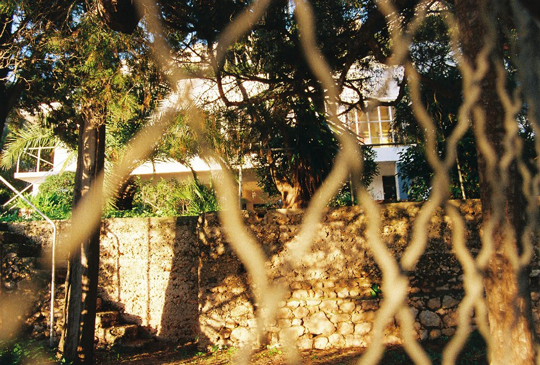 G: Close up of Le Corbusier mural in house.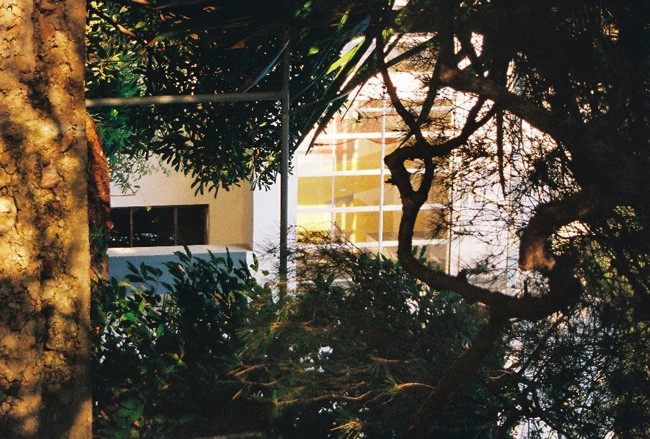 H: Balcony detail.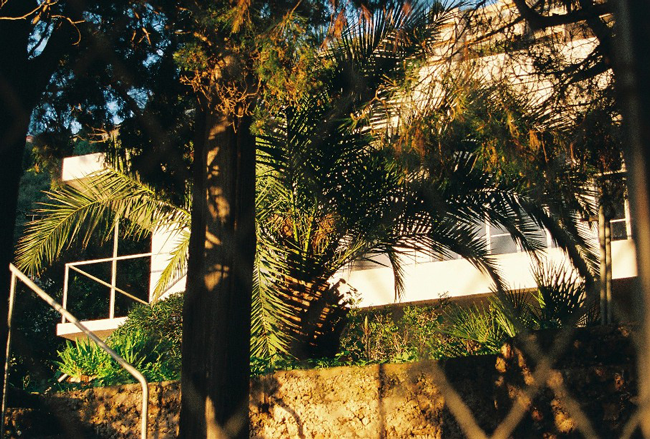 I: Craggy path.
3 Why are we interested in our past now?
My interest in the recent past of architectural modernism is not unique. Modern architectural history merges with circuits of walking tours, local chapters of preservation and history networks, design aficionados and pop cultural references from Bond villains to Mad Men. With the digitalization of census and other archival records, more and more people are interested in researching not just local or architectural histories, but specifically their own genealogies, creating their own archives from the archives. In 2002 the release of English census records from 1901 attracted more than 1.2 million hits per hour to the UK National Archive website. The influx caused server damage and the census was removed for several months while upgrades were made. The recent release of the 1911 census in January 2009, two years earlier than legislation allows as there is a one-hundred-year waiting rule before releasing personal census details, attracted 7.2 million hits within the first few hours. The UK National Archive had to build five times the servers just to cope with the growing demand. The 1921 census will be the last to be released for some time, and only in 2021. The 1931 census was destroyed by a fire, and there was no 1941 census taken because of the war. There will be a thirty-year 'generation' gap before the 1951 census is published in 2051.
[8]
Television shows like the BBC's
Who do you think you are?
[9]
are popular media reactions to this temporal gaze. Like film noir or the detective novel, seemingly innocuous traces bear clues that create a lingering narrative for seekers of family history. This show focuses on celebrity family histories, including Jeremy Irons, Nigella Lawson, Jerry Springer and the current Mayor of London, Boris Johnson. Along side the narratives, artifacts and surprised faces, there are detailed descriptions of 'How we did it,' describing the research methods for each episode, and links to countless sites including The National Archives and the Society of Genealogists. The site is also peppered with guides to discovering your own family history, and message boards to share tips on family history research.
Among the most interesting site linked to the programme is the Archive Awareness Campaign (AAC), with the slogan 'Everyone has a history and we've got a bit of yours!' Begun in 2003 in the spirit of the New Labour government's equality and diversity policies, the AAC was designed not only to 'address the issues of under representation of UK archives, especially in comparison with the museum, gallery and library sectors'
[10]
—but also the under representation of certain user groups, in particular under-24s, black and ethnic minority groups as well as new and non-traditional users.
[11]
The AAC's approach signals the competition of the saturated cultural markets in the UK, strengthening the link between archives and Foucault's 'museums and libraries [that] have become heterotopias in which time never stops building up … the idea of accumulating everything, of establishing a sort of general archive.'
[12]
Michael S. Roth provides an opportunity for us to think through this relatively new public fascination with the archive – new in the sense of the unbridled public access through digitization that gives priority to certain
kinds
of archival materials, mainly registers, census material, and immigration documents. Roth proposes that the question is not about what we can find in the archive, or whether or not we can prove the authenticity and provenance of the materials, but precisely 'to understand why [the] historical-theoretical circumstances necessitated that [we] found these facts and patterns.'
[13]
In other words, the question is not 'What did we find out about our family histories?', but 'What does it tell us about the present time that there is both a push and an interest to uncover and legitimize in the deep history of archival materials, our own provenance, our own family histories?' What is particularly interesting about the AAC and their public engagement programs that were intended to bring access to and to engender an interest in the archives in diverse populations, is not necessarily a question of the kinds of materials available in those archives, nor who the main users currently are. The contemporary problematic is to uncover what this trend tells us about current political and socio-economic circumstances. What is unique about this particular moment in history that 'necessitated' that the archives open up in particular ways, and to particular groups of people? What work is being done here in the priority of personal genealogy?
4 Inheritance as archiving the future
If family genealogy is the 'familiar' archive of the past, then inheritance is, perhaps, the archive of the future. On 13 January 1960, and without an heir to his name, Le Corbusier, in a decisive note, created his own future provenance:
I here declare, for every eventuality, that I leave everything that I possess to an administrative entity, the "Fondation Le Corbusier", or any other meaningful form, which shall become a spiritual entity, that is, a continuation of the endeavour pursued throughout a lifetime.[14]
Le Corbusier was concerned about his legacy. He was worried that, not having a clear and single (biological) person through which his work could live on, his documents and plans, his writings and collections, would all be dispersed among the many relations he incurred over the years. He writes that his 'life has been made up of intense contacts' and that '[f]or more than twenty years [he has] filed with Me Maguet's firm a series of wills which have changed according to circumstances.'
[15]
His final will, this note from 1960, would announce his one and only heir, his only progeny, his archive: Fondation Le Corbusier, not just a legal entity with bureaucratic duties, but a 'spiritual' one. Among this spiritual entity would be handwritten letters sent from Roquebrune and '
my little property at Cap Martin
.'
[16]
In a round table on 'Architectural Practice and Conservation' at the 2010 Docomomo International Conference in Mexico City
[17]
, experts defined the problems encountered with the conservation of modern buildings, with archiving architecture. Modernist conservation debates, it was argued, surface on more or less four broad and dichotomous issues: the author versus today's intentions; the original object versus today's requirements; temporality versus materiality; and historic layers versus the original layer. Do we restore a building to the author's original vision? And if so, where is that vision located? In the original drawings? The final proposal? The final built form that was more than likely altered from the original drawings in the compromise of the building and labor processes? Do we take on board the modernist aesthetic of delivering design for precise and premeditated function? And if so, are we interested or prepared to give more priority to making sure the
values
of modern architecture are restored, at the potential loss of or changes to the physical building? How do we deal with 'original' materials or buildings that were purposefully designed
not
to last? Do we put them on architectural life support? Or honor the intentional temporality of the site? And given that architecture, the built form, exists through time, where are the limits of the building? Does the building stop at its material envelope? Or do we consider its wider impact in the community or in modes of living? How many historic layers do we peel back to find a building's essence, if there is one?
Kent Kleinman, in his article 'Archiving/Architecture,' purports that what gets built in the 'built' environment is precisely unoriginal. A single building, he argues, can be replicated over and over again from an 'original' drawing; 'a Mies drawing, but not a Mies building, is understood as an original.'
[18]
Kleinman provides a formulation to consider originality in the context of archiving architecture arguing that 'the (unbuilt) document is architecture; architecture is a (built) document.'
[19]
This double archive engenders the problematic translation of document to architecture and back again, and challenges our assumptions about the notion of originality, no less newness, in architectural production.
On the other hand, while architectural production may be the repeated translation from drawing to site, restoring, or the archiving of a built structure, might be about newness. Because of the impossibility to provide consistent or persuasive arguments about how far to dig down through history to reproduce the original intentions of the architect (or was it the original second life of the building once built?), what is finally created can only be a new interpretation, a new translation that is differently informed than the initial structure, and therefore new. Kleinman quotes the architect Eugène Viollet-le-Duc from his
Dictionaire raisonné
to argue that this lost newness that is recreated in the act of restoration, is new because it is out of time. 'To restore a building is not to preserve it, to repair it, or rebuild it, it is to reinstate it in a condition of completeness that could never have existed at any given time.'
[20]
Discussing the restoration of Adolf Loos's Villa Müller in the Czech Republic, Kleinman argues that this 'completeness' informed, or perhaps was guided by, nascent nationalism. Perhaps the restoration process performs no less as an archive of the political motivations of its restorers, than as an archive in homage to any given architect. Indeed, a fine restoration that alchemizes a work of art out of a piece of architecture (guided tours, and no touching please), holds provenance ransom in the hands of the state. Loos no longer
lives on
in Villa Müller, if indeed he ever did. As a collection of the Czech Republic, its likeness has undergone a political exorcism wherein now lies the spirit of state production. From house to monument, when architecture speaks, we must be clear just whose spirit we are listening to.
If this house is now archived in homage to national identity, it stands in a long line of such structures. The phrase 'to house the archives' is precisely related to the etymology of the term itself. The archives were housed in houses. As both guardians and interpreters, the
archons
held archives in terms of a legitimate commandment. The legitimacy of these commandments came from the authority of the 'fullness' of place. The
archons
were the 'keepers' of authority, as 'it [was] at their home, in that
place
which is their house…that official documents [were] held.'
[21]
The idea of the
archon's
home as 'full of place,' in the same sense that the restored or archived Villa becomes 'a condition of completeness that could never have existed at any given time' is what lends authority to the documents, and therefore to their interpretation in the form of commandments.
But is an artwork full of place? Transformed and completed, the restored building moves us to the limit of absorptive contemplation, as with an original art piece, but that limitation is also what denies it a sense of place. With ticket lines and restrictive photography
[22]
, red velvet cords lining our routes through pavilions and villas, carefully booked tickets for open house weekends, and architectural tourism, it would be contentious to say that we can experience the fullness of place simply by looking at it, or even by walking through it. Though to dismiss architectural experience as only ever 'full' in that fulfillment of the labor of its function is, perhaps, a disservice. As Kleinman writes, 'To deny touch to "original" archival material is fundamental to the archive's mission. To deny touch to the villa is to transform it, not only categorically but also critically.'
[23]
And yet, its power, perhaps its legitimacy, lies in precisely being out of touch.
It is fitting then, that in his final years, Le Corbusier worked hard to secure a place to 'house' his archives. While very few of his buildings are owned by the Foundation – most were in private hands at the time – he worked on two fronts to find his archives a suitable home. First, he held a continuous dialogue with André Malraux on the restoration and future attribution of Villa Savoye which, while not ending up in the hands of the Foundation, was saved from demolition and is presently maintained by the
Centre des Monuments Nationaux
(Centre for National Monuments). Second, between 1957 and 1964 he managed to persuade his friend, also 'heir-less', Raoul La Roche to donate his house built by Le Corbusier in 10
square du Docteur Blanche
, Paris. In a letter to La Roche on 3 July 1959, Le Corbusier thanks him for his donation by extending the provenance of the archive to La Roche as well:
On this occasion you and I are accomplishing a material and moral act expressing our mutual respect and our faith in art. Your life and mine alike have been inspired by it. After my time, the Fondation Le Corbusier will prolong the research I have devoted myself to; giving this foundation a roof will consecrate the friendship that brought us together in a far-away and … heroic time.[24]
Maison La Roche remains in the Foundation's possession, and the nearby Maison Jeanneret, now holding the administration offices and library for the Foundation was only acquired in 1970 through the sale of a Picasso. Delightfully restored to that 'fullness of place', we might understand Le Corbusier to 'live on' in his inherited archive, his 'spiritual entity' archived at home.
5 Burning the future; or, Capitalism's ashes
Eileen Gray seems to be historicised of late as being the early twentieth-century antidote to Le Corbusier. She is quoted as arguing that 'the house is NOT a machine for living,' and probably would not consider the home, even one she built, as an archival machine.
[25]
After Gray stopped going to the house she built, E.1027, in the mid-1930s, Le Corbusier kept going. He built his
Le Cabanon
next to it in 1950, and his
Unité de Camping
right behind it in 1956 – as if, architecturally, to claim the literal territory around this house. Brian Dillon writes that Le Corbusier was probably too fond of the house 'which he coveted with a professional regard that verged on personal spite.'
[26]
In 1938, and still living in the house
sans
-Gray, Badovici agreed to let Le Corbusier paint eight murals in the house, murals that have stayed on during its recent restoration. Some historians argue these are the most valuable parts of the house, others insist they are acts of architectural vandalism. Over the years, Gray's E.1027 was attributed to many other architects including her associate Jean Badovici and even to Le Corbusier himself. In that sense, Gray is now a subject being rediscovered, re-historicised, recovered; as a designer, her Dragons Chair caught the highest ever bid for a piece of furniture at Christie's when it was sold from the late Yves Saint Laurent's collection, fetching €21.9 million in 2009.
Le Corbusier was a fastidious architect, but an equally, if not even more, fastidious archivist. The archive that he left hosts everything from sketches, notes, messages, letters, scribbles in the margins of books, as well as books, papers, conference materials and, of course, architectural drawings, built projects, paintings and photographs. Here again, Gray comes to stand as foil. While her furniture designs live on to this day, having passed on the rights to reproduce and sell them to Zeev Aram in the 1970s, when it came to her own personal papers, her sketches, her letters, her notes, she burned them. Refusing to commit them to posterity, instead Gray committed them to ashes. Ashes to ashes.
We have no such option. Out of the ashes of our moment in capital's long march, traces, impressions, smudges and marks pepper the server farms and institutions that behold us. Benjamin's destructive character perhaps compels the myth of modernity as that which can create the tabula rasa, the fresh start. This character is one for whom 'destroying rejuvenates in clearing away the traces of our own age; it cheers because everything cleared away means to the destroyer a complete reduction, indeed eradication, of his own condition.'
[27]
Yes, we can burn paper and we can crush and melt our hard drives, but we cannot decide to fully leave the world – for as we fill it with place, and we move and dwell, we displace it in ways that cannot be undone. Even in burning, there is heat, there is light, there are ashes.
It would be, perhaps, difficult to caricature Eileen Gray as a destructive character for choosing privacy, and Le Corbusier the opposite for choosing disclosure, or as one gracefully content to die, the other garishly desperate to live on. Both have left traces. It is in E.1027, in this one (once) ruined building, ruined by Le Corbusier's 'vandalism' through his painting of murals on its 'pristine white walls', as much as by lines of ownership, time and disregard that their characters produce
the
character of modernity. A character at once content to dwindle, like the light from the furthest of stars, and uncompromisingly holding on. As Foucault writes, this
Will to enclose in one place all times, all epochs, all forms, all tastes, the idea of constituting a place of all times that is itself outside of time and inaccessible to its ravages, the project of organizing in this way a sort of perpetual and indefinite accumulation of time in an immobile place, this whole idea belongs to our modernity.[28]
Le Corbusier's violent intrusions (paintings, buildings) in and around E.1027, could be read as attempts to wrestle it into his own cannon, into his own, or indeed any, archive, into the future. The recent restoration cements, figuratively and literally, the house not only into the crags by the sea, but also the archive of twentieth-century modernist architecture.
If this house were one of many in a post-war housing estate in central London, or on the favela hills of Rio de Janeiro, it would not have been the poster child of a restoration. Those 'other' houses of modernity, the estate and the favela, are not currently being 'restored.' Rather, they are both subject to demolition – operationalized through processes of eviction, and both with the promise of a brave new (luxury housing development in the one, and hotel real-estate speculation in the other) world. The Heygate Estate in Elephant and Castle, London, is not being re-discovered or recuperated like some other late-modern housing, but rather destroyed, removed, expunged like capitalist clockwork – forty years after its being constructed in 1974. In time, their demolition will fade from memory; 'the destructive character obliterates even the traces of destruction.'
[29]
Today, building life-spans have been written out of planning law, the building as archive slowly giving way to profit imperatives and sluggish imaginations that cannot contend with the world as it is, preferring to create the world anew, each time, from scratch.
On 27 August 1965, Le Corbusier went for a swim while staying at his Le Cabanon in Roquebrune-Cap-Martin, next door to Gray's E.1027, he never returned.
On 31 October 1976, after sending her maid out to purchase some cork to start a new project, Eileen Gray died in Paris.
---
[1] Quote by the author, Adam Kaasa, in Finding Lost Newness (Legion TV, London: 28 June 2014)
[2] Taken from author's diary entry, 20 February 2010, at sunrise in Beausoleil, just above Monaco.
[3] Benjamin, Walter 'The Work of Art in the Age of Mechanical Reproduction' in Arendt, Hannah (ed.). Illuminations (London: Pimlico, 1999), 217.
[4] The 'Promenade Le Corbusier' stretches from Monaco to Menton, but centres on the stretch from the train station at Roquebrune-Cap-Martin along the coastal side of the train tracks towards Le Corbusier's Cabanon (a one room log cabin style vacation home for the architect), his Unité de Camping based on the modular style of the Unité d'Habitation in Marseilles, and Eileen Gray's E.1027, which contains several Le Corbusian murals.
[5] Sekula, A (1986) 'The Body and the Archive' October Vol. 39, Winter, p. 6
[6] Later I would realise this was not Le Corbusier's Cabanon, but his Unité de Camping.
[7] Benjamin, p. 217
[8] Meikle, James and Walker, Peter. 'Hundreds of thousands log in to view digitalised 1911 census', The Guardian, 13 January 2009, http://www.guardian.co.uk/uk/2009/jan/13/census-online-archives. Accessed 8 June 2014.
[9] BBC One Who do you think you are? website, www.bbc.co.uk/programmes/b007t575. Accessed 8 June 2014.
[10] Archive Awareness Campaign Press Release. 'Archives join forces to celebrate human rights', 5 September 2007, 2.
[11] Archive Awareness Campaign. Website no longer in use, but accessible through the Internet Archive here: https://web.archive.org/web/20080609012442/http://www.archiveawareness.com/. Accessed 16 June 2014.
[12] Foucault, Michel. 'Of Other Spaces', Diacritics, 16:1, 1986, 26.
[13] Roth, Michael S.. 'Foucault's "History of the Present"', History and Theory, 20:1, 1981, 34-5.
[14] Fondation Le Corbusier. Website, http://www.fondationlecorbusier.fr/corbuweb/morpheus.aspx?sysId=19&sysLanguage=en-en&itemPos=1&sysParentId=19&clearQuery=1. Accessed 14 June 2014.
[15] Fondation Le Corbusier.
[16] Le Corbusier was interested both in the physical preservation of his works and legacy, and the financial wellbeing of the institution charged with their upkeep and dissemination. For this reason he left everything in his possession to the Foundation: bank accounts, unpaid credits, properties, paintings, royalties, etc. For the full text of his letter of intent for the formation of the Foundation, see the history section on the Foundation's website: http://www.fondationlecorbusier.fr/corbuweb/morpheus.aspx?sysId=52&sysLanguage=en-en&itemPos=1&sysParentId=52&clearQuery=1.
[17] Documentation and Conservation of the Modernist Movement (Docomomo) held its 11th International Conference at UNAM in Mexico City from 19-27 August 2010. See http://www.docomomo.com/com/conference11.htm.
[18] Kleinman, Kent. 'Archiving/Architecture', in Blouin, Jr., Francis X. and William G. Rosenberg (eds.). Archives, Documentation, and Institutions of Social Memory: Essays from the Sawyer Seminar (Ann Arbor: University of Michigan Press, 2007), 54.
[19] Ibid., 55.
[20] Viollet-le-Duc quoted in Kleinman, 2007, 57.
[21] Derrida, Jacques. 'Archive Fever: A Freudian Impression', Diacritics, 25:2, 1995, 10.
[22] When visiting Luis Barragán's home in Mexico City, for example, you are not allowed to take photographs. The copyright for images of the house is owned by the Barragán Foundation (www.barragan-foundation.org) which purchased Barragán's archive and several of his buildings, including his home in Tacubaya in 1996. The Foundation is then further owned by Vitra, and housed at the Vitra Headquarters in Basel, Switzerland. Here, rather than state formation, the spirit of a corporation attempts to live on in the provenance of Barragán's legacy. Perhaps fitting, given the contemporary contention that Barragán was less an architect, and more a businessman.
[23] Kleinman, 2007, 58.
[24] Fondation Le Corbusier. Website, www.fondationlecorbusier.fr/corbuweb/morpheus.aspx?sysId=51&sysLanguage=en-en&itemPos=1&sysParentId=51&clearQuery=1. Accessed 14 June 2014.
[25] Gordon, Alastair. 'Le Corbusier's Role in the Controversy Over Eileen Gray's E.1027', The Wall Street Journal, 19 August 2013. Accessed online 14 June 2014. www.online.wsj.com/news/articles/SB10001424127887324354704578637901327433828
[26] Dillon, Brian. 'On Not Getting the Credit', London Review of Books, 35:10, 2013, 29-30.
[27] Benjamin, Walter. 'The Destructive Character', in Demetz, Peter (ed.). Reflections: Essays, Aphorisms, Autobiographical Writings (New York: Random House, 1986), 301.
[28] Foucault, 1986, 26.
[29] Benjamin, 1986, 302.
---
Adam Kaasa is an interdisciplinary scholar who specializes in the politics of the city, foregrounding the role of architecture and design. He completed his PhD as a SSHRC Scholar at the London School of Economics and is currently Research Fellow in Architecture at the Royal College of Art, and a founding Fellow of Theatrum Mundi. His research and teaching interests include critical and social theory to consider public space, the postcolonial and negotiations of capital in late modernity as they touch ground in the practices of architecture. He is a founding member of the transatlantic collective When We Build Again.