Marcy Hermansader
Back through war
Back through black
Back toward silence
Back toward mystery
In 2007 I began making collages out of black paper in response to the wars in Iraq and Afghanistan. I was so opposed to these wars that just thinking about them seemed to drop a dark veil over my vision. This work was made slowly, like something growing, giving me time to reflect on the special qualities of the color black.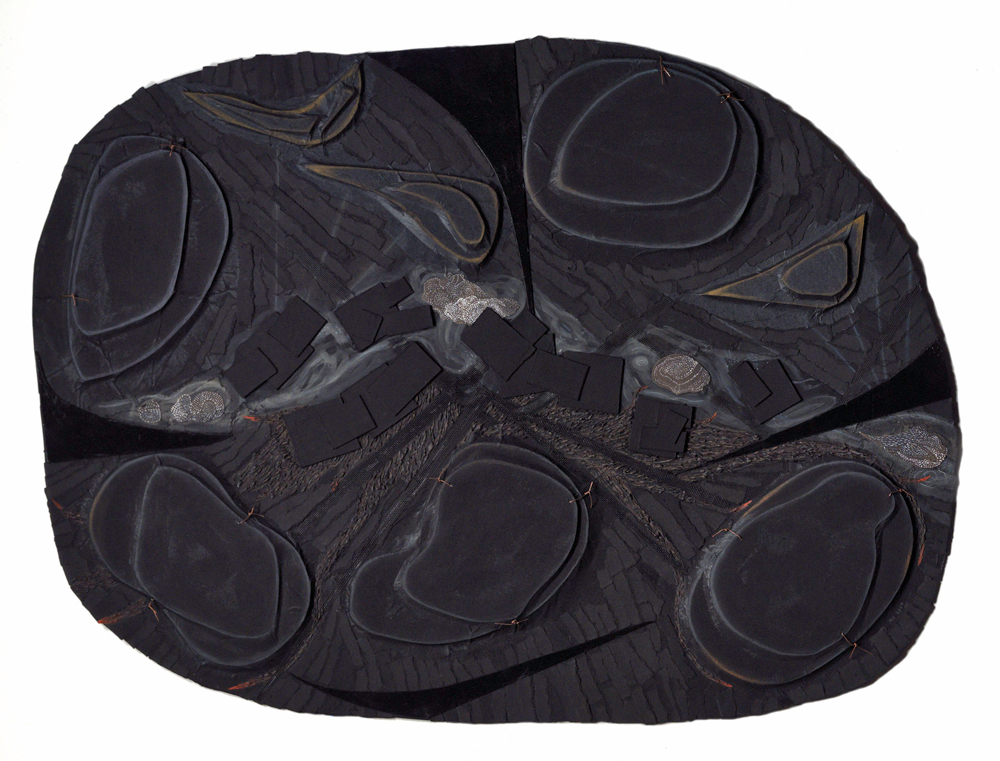 When we close our eyes we are in darkness, giving darkness an association with turning inward, and perhaps also in this inward state, confronting the shadows we carry within us. As I created this work over a period of years, I found myself traveling back to my youth, and the war we fought in Vietnam; and later to my childhood discovery of war, when I came upon photographs of the devastation of Hiroshima while paging through my parents' books.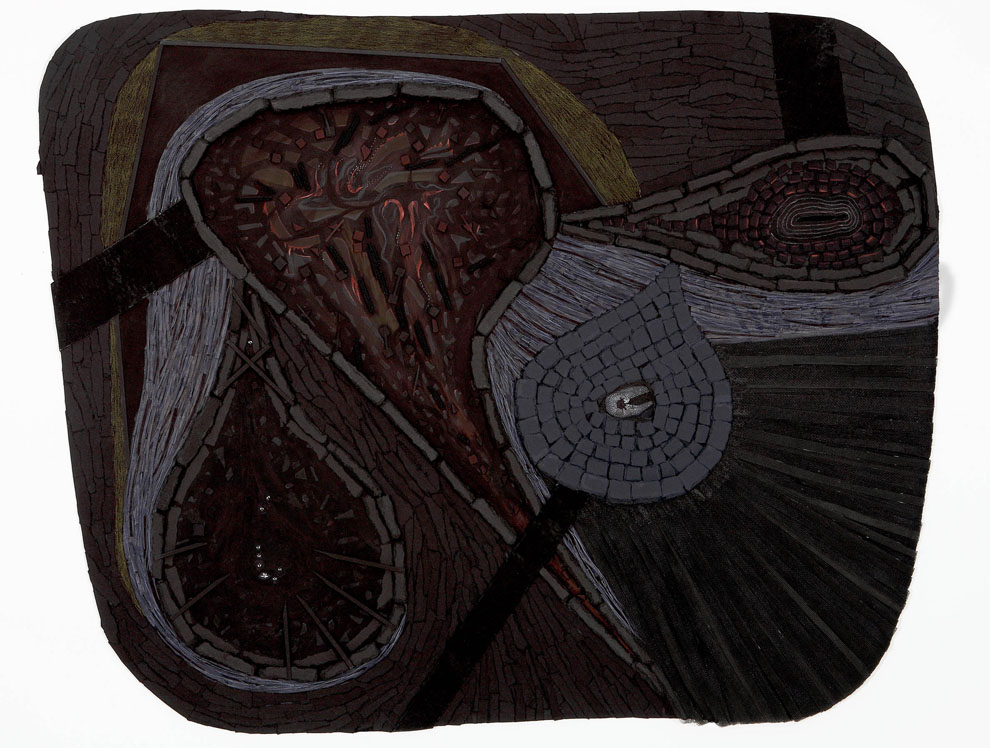 Black absorbs more light than any other color, so viewing very dark artwork requires time for the eyes to adjust to this darkness. If the lighting is also dim, it may involve a physiological response while the vision switches from cones to rods, as in night vision. I like this slowing down, this necessary pause while adjusting to a changed reality. Besides being very dark these collages are also thickly layered, as if to absorb sound as well as light, creating the visual equivalent of silence. Beginning on a backing of museum board I built up layers one half to one inch thick - of paper, fabric, and other materials. This sometimes felt like bandaging, or some strange attempt at repair.
Black evokes the most intimate of spaces – the interiors of our minds and bodies. But it is also the color of the night sky – the most unbounded experience of space in our experience. In a black work that is abstract, these opposite associations of scale can coexist. Abstraction also allows for multiple interpretations, uncertainty, and mystery. One viewer might imagine burnt debris; another may find an aerial map. The blackness creates that space we encounter in dreams where we each wander to our own destinations.
Marcy Hermansader creates works on paper that express humanist, environmental, and spiritual concerns. She lives in Putney, VT and has been a practicing artist for over 30 years. She has had one-person exhibitions at Williams College Museum of Art, the Decordova Museum, and the Pennsylvania Academy of the Fine Arts. Her work has been included in group exhibitions at the Aldrich Museum of Contemporary Art, the Bronx Museum of the Arts, and the Philadelphia Museum of Art. Her other activities include working with the Vermont Arts Council to make the arts more accessible to people with disabilities. Her work is represented by Fleisher/Ollman Gallery in Philadelphia, and BigTown Gallery in Rochester, VT.