Vincent Chevalier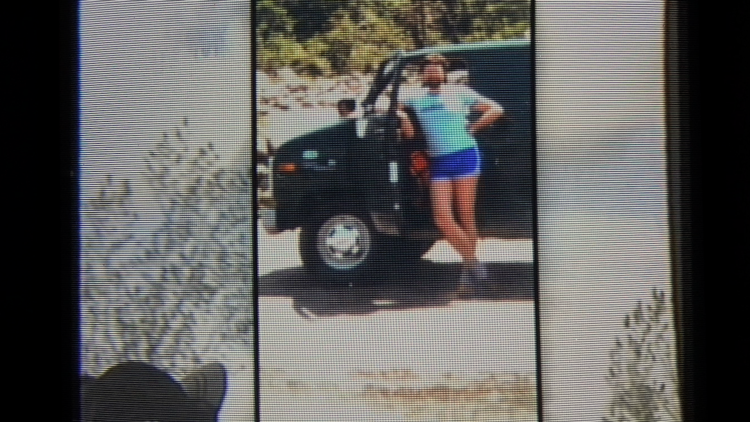 À Vancouver
is an experimental video essay based in autobiography, featuring interviews with my father about our familial and individual sexual histories. Blending documentary and fiction, the video examines and expands upon parallel events in both my father's life and my own, wherein we each traveled across Canada to Vancouver, and had formative (homo)sexual experiences at separate moments in time: my father as an eighteen-year-old traveling in the mid-1960s and myself as a young teen and then adult in the mid-1990s then 2000s. This story is recounted bilingually in French and English voiceover with subtitles and live action re-enactment of fictionalized events.
My father told me the story of his trip to Vancouver when I came out to him as a teenager. In 1964, he hitchhiked across the country with 'nothing but $40 in his pocket.' There he traded sex for shelter, contemplated suicide and had profound thoughts on what his future would bring. Years later, I travelled to Vancouver several times, living there first as a young teen and then spending several months in my twenties grappling with addiction and fears of no future. From these experiences emerged a shared narrative of isolation, trauma, non-belonging and hope.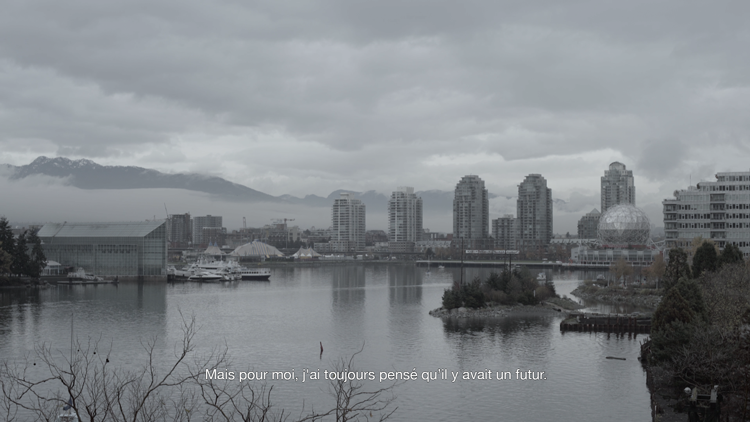 Our conversation takes place over imagery of Vancouver (predictably) at its most 'Vancouver': in the cold rain. This is both an intimate and touristic portrait of Vancouver, crafted from our shared memories of the city. It is both
of
the city but
not
the city. Similarly, our memories cast a transient and mythical framing of events. At one point during our exchange, my father asked if 'my AIDS thing was part of my video?'
In the discussion that follows it is revealed that a traumatic memory of my youth can only be mis-identified as being parts of my AIDS narrative.
SCENE 7
CUT TO
INT. CONDO – Bedroom
Two men (strangers) are lying in bed, naked. They've just had sex.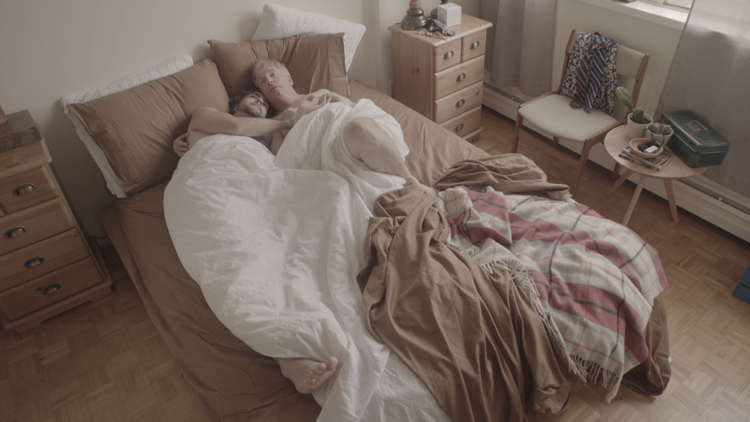 G

Are you talking about Vancouver because it's where you got AIDS? Is your AIDS thing part of your video?
V
AIDS? No.
G
Okay. When did you figure out that you had AIDS?
V
I mean, I didn't get AIDS when I was 11 in Vancouver.
G
No? Because I was talking with my doctor to see if he would take you as his patient. Weren't you looking for a doctor? Or you mentioned to me that you were looking to change doctors? And I told him—because I wanted to raise his interest—I told him, 'he's got AIDS,' and it didn't raise his interest at all. But he said, 'well how old was he when he got AIDS? Because he must have been pretty young.' He said because it takes seven years to get full blown.
V
I've never had AIDS. I have HIV. So when you say I've got AIDS that means I'm dying of AIDS.
G
Ben là, moi je... mais non...
V
That's what he means when he says seven years to full-blown AIDS.
G
Mais moi je parlais du SIDA, là.
V
Yeah. Yeah. So AIDS—
SIDA
—is different from HIV. I have HIV. I've never had AIDS.
G
Ben la... Moi je vois pas la difference, là.
V
There is a difference. That's why your doctor was like, 'How did he…How did he have AIDS. Did he get it seven years ago?' HIV is the virus that causes AIDS. AIDS isn't the virus. It's a syndrome.
G
It's, it's, it's... uh, like, you got HIV and then you can become ill from different sickness, one of which is AIDS.
V
No. AIDS is a syndrome. It's a bunch of different illnesses that mean you are infected with HIV.
G
Anyway! You know. Just to come back to our point of discussion I was even thinking, 'well I hope that's not, that it's not related to Vancouver.' Not that I hope that it's not related to that because it doesn't make any difference.
V
I mean I got HIV when I was 19 so... It was after I lived in Vancouver when I was 11.
Scene 8
FADE IN.
A close up of a phone opened to Google Maps. Hands navigate to search for Vancouver, BC.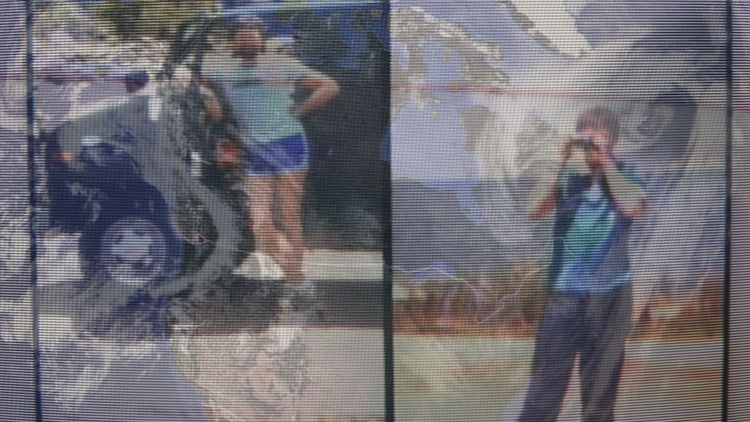 V
Why do you think that you told me that story when I was a teenager? Why did you tell me about your time in Vancouver...?
G
It's a story that I tell pretty, I tell pretty... voluntarily,
là.
You know I don't think there should be any secret. I think I told you that often. Greek drama is based on mistakes like that. The tragedy. When you're secretive it creates tragedy. It creates
mal entendu
and uneasiness. All the while you're uneasy about certain truths that you know or you don't know,
là.
And then it becomes either dramatic or tragic. And anyway, it's crazy.
The map scrubs eastward and zooms to a suburb of Vancouver. The Google Street View figure drops down on a
cul de sac
near the highway. The screen adjusts to focus on a brown suburban home.
V
Sorta like the secrets that I've told you about my time in Vancouver.
G
Your time in Vancouver? Oh. With... What's his name,
là.
Slow zoom in on the house. A shirtless man looks over his shoulder while working on a motorcycle.
V
...
G
... You didn't tell me... all of it. But you... I mean I know ... he was uh, harassing you.
Comment on appel ça?
Harassing you? I know he was an abusive kid,
là
. But uh...
V
He was.
G
He was. Yeah. [long pause] But I didn't know if it was physically he was torturing you or he was...
V
Physically?
G
Or psychologically.
V
Well since then Vancouver has always been a difficult place for me.
G
So why do you want to go back to Vancouver? Because of that? Why Vancouver?
CUT TO:
Sounds of waves on the beach.

V
After that... There's nothing.
[Après tout... Il n'y a plus rien.]
FADE TO:
BLACK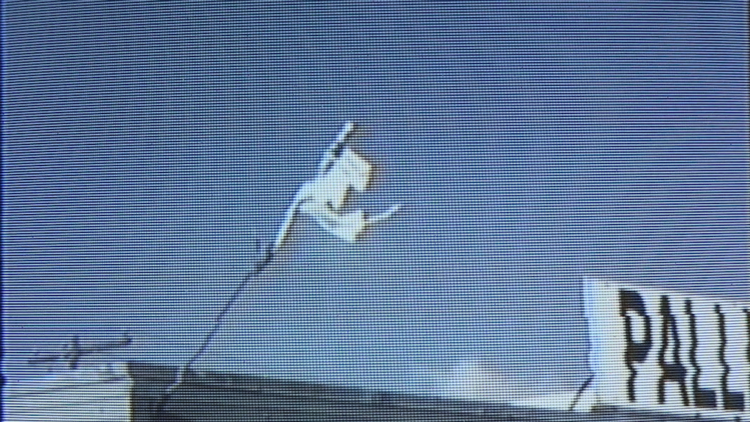 ---
Vincent Chevalier (b. 1983) is an interdisciplinary artist originally from Montreal, currently based in Toronto. His practice melds autobiography, documentary research and appropriated media to construct uncanny works on screen. He holds a BFA in Intermedia/Cyberarts from Concordia University (2011) and was the Media Arts Coordinator at Artspace in Peterborough, Ontario. Known for his videos and digital interventions on queer themes and HIV/AIDS, his videos have screened internationally including at the Australian Cinematheque (QAGOMA) in Brisbane, Australia, the Oberhausen International Short Film Festival (Germany), the NYC Porn Film and Dirty Looks: On Location festivals (NYC), Vtape's Curatorial Incubator curated by Adam Barbu, Whippersnapper (Toronto), and at Artspace (Peterborough).